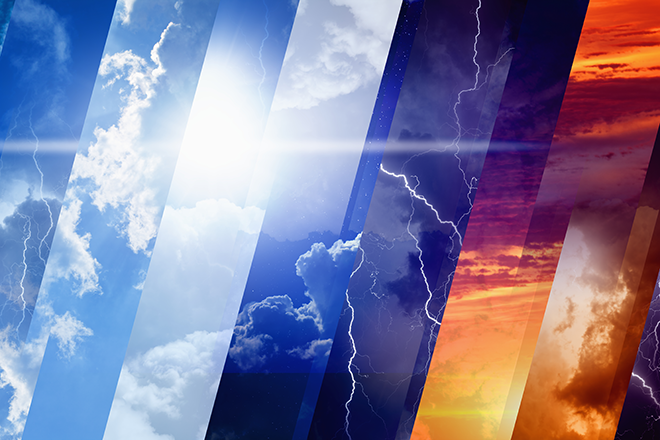 Published
Saturday, September 2, 2017
The Labor Day weekend will be hot and dry across most of Colorado, though the eastern plains will see the first hint of fall Tuesday.
Eastern Colorado
An upper ridge building from the east Saturday will result in highs in the upper 80s to low 90s across eastern Colorado through the holiday Monday. Drier air will limit the potential for rain to mainly mountain areas where isolated afternoon and evening light rain is possible.
Northeast Colorado may see smoke in the air Saturday from fires in Montana.
Though Monday remains hot, a cold front will begin to drop south across the area later in the day. Tuesday's highs will be nearly 20 degrees cooler, reaching only to the low to mid-70s. Many areas will see lows in the mid- to upper 40s Tuesday night.
Heading in to later part of the week, temperatures are expected to rebound as another high-pressure system begins to move into the area.
Western Colorado
Upper 80s to low 90s are expected across western Colorado over the coming days as a high-pressure system remains in place from northern Nevada to southern Oregon. Grand Junction will be the hot spot, with highs in the mid-90s.
The potential for rain is limited, mainly over the San Juans and central mountains.
While the cold front that drops across eastern Colorado late Monday will have little impact on western temperatures, it may help bring more moisture to the southeast San Juan mountains. Most of the rest of western Colorado will remain dry.
The high-pressure system is expected to remain in place through the week, so temperatures will remain above normal for this time of year.
Weather forecast information updated throughout the day can be found at http://KiowaCountyPress.net/weather
Forecast - September 2-5

Saturday

Sunday

Monday

Tuesday

City

High

Low

High

Low

High

Low

High

Low

Eads

90

56

94

56

94

53

73

48

Springfield

88

58

91

58

92

55

72

51

Trinidad

92

57

90

56

89

53

70

49

Limon

87

53

91

53

89

50

70

44

Sterling

91

56

98

56

91

54

75

45

Fort Morgan

91

55

98

56

93

53

75

45

Craig

87

48

88

49

88

47

80

43

Grand Junction

95

62

97

64

97

62

93

59

Montrose

88

55

90

56

90

56

86

53

Cortez

88

50

90

52

90

52

86

50