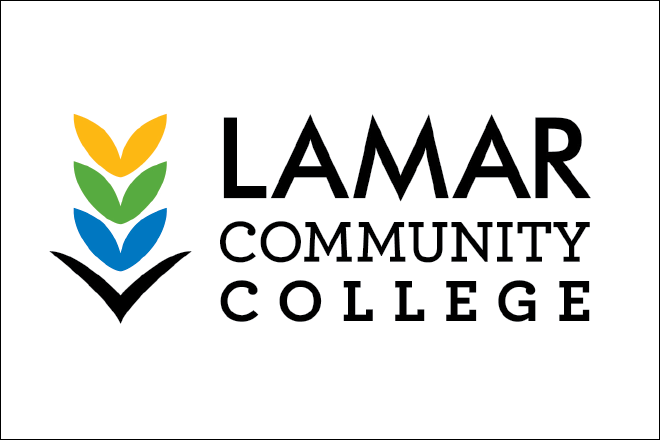 Published
Wednesday, May 18, 2022
Lamar Community College (LCC) recognized their 2022 graduates during the college's 83rd Annual Commencement Ceremony May 7 at the LCC Wellness Center's Lopes Gymnasium.
The first two speakers of the ceremony included LCC Student Body President Maddie Thompson and student Aliana Gutierrez. Thompson and Gutierrez were noted for their many personal and school-wide accomplishments at LCC, and both are members of Phi Theta Kappa (PTK) Honor Society.
The commencement address was powerfully delivered by LCC graduate and current LCC professor Mittie Helm.
Also honored were retiring Faculty Senate President Dr. David Frankel and LCC graduate and distinguished Alumni of the Year, late Chicano activist Ricardo Falcon.
The 83rd LCC commencement ceremony was LCC President Dr. Linda Lujan's last, as she'll be retiring in December. She had several positive things to say about LCC students during her final commencement address.
Frankel certified the graduating class during the ceremony, Dean of Academic Services Greg Cash and Dean of Student Services Teresa Turner presented degrees and certificates.
The ceremony was live-streamed and the recording can be viewed on the college website. To watch the recorded event, click here: https://youtu.be/1eVmddbHrNE
2022 LCC Graduates
ASSOCIATE OF ARTS
Clarisa Acosta
Roseada Ashby
Jeanne Elizabeth Barth
Brooks Bergenheier
Drew Kaeden Chamberlain
Rhiannon Cousins
Jamilet Cruz
Nancy Darbyshire
Aiden Davis
Keira Dean
Asiah Figueroa
Yosselin Gomez
Aliana Gutierrez *
Joshua Jones Jr
Kaitlyn La Cost
Tanner Lallmann **
Cyrus Madrid *
Gabrielle Marquez
Ross Martin *
Nicholas T. Meyer
Zebulon Perdue
Brianna Perez-Hernandez
Cailey Genevieve Reid **
Samuel Reyes-Lopez **
Ethan Settles
Cameron Sisneros
Mai Le Waters
Ian Weil
Deon Williams
BUSINESS
Carson Carere ***
Michael McGinnis
Dylan Sean McTaggart
Cade Wurst ***
CRIMINAL JUSTICE
Alyssa Abitia ***
Lilly Hicks *
Risa Segura
EARLY CHILDHOOD EDUCATION
ELEMENTARY EDUCATION
ASSOCIATE OF SCIENCE
Randi Crandall **
Megynn Fierro-Vargas
Will Osborne *
Julissa Adan **
Arianna Aguirre
Althea Kara Angeles
LisaMarie Begay
Emmalie D. Byrne
Baily Dawson
Tyler Dorn
Maria Flores
Jayda Hernandez
Nasya Madrid-Lefebre
Xavier Mendoza *
Kalysta Minton-Holland
Kaden Moya
Abagail Nidey
A'Dasia Porter
Haven Quintana
Jonathan Rink **
Taelyn Sicklebower
Britnie Simcox
Ethan Smith Sena *
Chloe Stevens
Andres Torrez
Ryan Trinkaus *
Sloane Vigoren
Kevon Wiggins
Kayik Wildcat **
PHYSICAL DISTINCTION
ASSOCIATE OF GENERAL STUDIES
Demetrio Archuleta
Savannah Bandy
Thurbil Bile
Rachel Billings *
Zoey Lynn Byrne **
Vincent J. LaConte
Ty Wade Piner
Kaitlin Reynolds
Cristina Rojas Acevedo
Savannah Stum
Griffin Webb
Laurie Ybarra
AGRICULTURE
John Goemmer *
Gabriela Noemi Gomez Trejo
Wyatt Stecklein *
Maddie Lin Thompson **
Wyatt C. Wollert
ASSOCIATE OF APPLIED SCIENCE
AG PRODUCTION MANAGEMENT
Katy Rose DeWitt *
Meaghan Greenwall ***
BUSINESS
COSMETOLOGY
Tess Camp **
Reygan Gibbs ***
Shawnique Longoria ***
Malea Martinez **
Mykenzie Penick **
Kailey Ramsay *
Alexis Smith ***
EQUINE BUSINESS MANAGEMENT
Kaitlyn Barrero **
Alexandria Dainko ***
Emma Rothbauer
Jenna Saleeby
Abigail Schmidt *
Keelin Wright **
FABRICATION WELDING
Giuliano Figlio
Ross Gruenloh **
Adrian Lopez
Gabriel N. Martinez
Richard Sandoval Jr.
HORSE TRAINING MANAGEMENT
Kaitlyn Barrero **
Alexandria Dainko ***
Kayce Edwards
Meaghan Greenwall ***
Haidyn Phillips *
Emma Rothbauer
Abigail Schmidt *
Marcie Southfield
NURSING
Kayla Bronson **
Sheridan Lynn Choat
Madelynn Doman **
Alexander Haverly
Ellie Jennings *
Brittany King
Chloe Longwill
Erin Mahler *
Zane Perdue
Kaitlei Salgado
Judith Sanchez
Melissa Eileen Schleicher *
Madison Nicole Silvey
Mariah Rose Smith *
Emily LeMarie Smith Sena
Jordan Lind Spacek
Romana Syed
Vanessa Trujillo
CERTIFICATES
AGRICULTURE
BARBER
Jacob Martinez
Benjamin Rubio Jr
BARBER ENDORSEMENT
BUSINESS
CARPENTRY ESSENTIALS
Angel Camacho
Trevor Cramblet
Ralson Descheny
Renee Krieger
Marileyn Ramos
Adan Yanez
CONSTRUCTION EXTERIOR BUILDING
Angel Camacho
Ralson Descheny
Renee Krieger
Nathan Millican
Marileyn Ramos
Adan Yanez
CONSTRUCTION TRADES ESSENTIALS
COSMETOLOGY
Angela Chacon
Iyesha Chacon
Patience Chanelle Crane
Jenea Gallegos
Joanna McDowell
Tiffany Nunez
Destiny Sena
EARLY CHILDHOOD DIRECTOR
Bobbie Bakun
Shaena Riehl
EARLY CHILDHOOD TEACHER
Bobbie Bakun
Shaena Riehl
EMERGENCY MEDICAL TECHNICIAN - BASIC
Joshua K. Boudreau
Brad Brewer
Franklin E. Cave
Aaron Chairez
Mark Dieffenbach
Faith Headlee
Hope Headlee
Kala Hernandez
Elijah Neilsen
Corey Reamy
EMERGENCY MEDICAL TECHNICIAN - ADVANCED
Jenifer Rae Black
Kailey N. Gillen
Zachary Joseph Potts
Jose Corral
EQUINE BUSINESS MANAGEMENT
Madison Bays
Kylee Christensen
Ral'Shaun Descheny
Jadie Duvall
Shay Glaser
Katrina Hamilton
Cerenity Keating
Joey Parks
Samantha Schuttler
Kayla Siedler
FUNDAMENTAL HORSE TRAINING
Heather Blanchard
Brylee Brevik
Mackenzie Chambers
Ral'Shaun Descheny
Jadie Duvall
Demiah Hernandez
Anna Kuhn
Aryanna Minemyer
McClane Rider
Wyatt Stecklein
HAIRSTYLIST
HEALTH & WELLNESS
Jose Armando Rodriguez
Kayik Wildcat
MARKETING TECHNOLOGY SPECIALIST
NAIL TECHNICIAN
NURSE AID
Diana Castro
Deseree Curioca
Crystalyn Felan
Alexis Felix
Josiah Files
Sandra Lopez
Aliyah Maria Macias
Diego Martinez
Laura Yajaira Mendoza
Jessica Mulske
Joseph Scott
Roque Torres
PRACTICAL NURSING
Tanaia Hansen
Aalia Jaramillo
Cody Reynan
Yolanda Rodriguez
Shauna Slone
Hailee Yakish
VETERINARY SCIENCE
Celestina Charette
Gabriela Noemi Gomez Trejo
Yahel Yajahyra Ortiz
Maddie Lin Thompson
WELDING ADVANCED
Ross Gruenloh
Dillon Hall
Adrian Lopez
Gabriel Martinez
David Saldana
Noah Sheffield
Latrell Stine
WELDING BASIC
Joshua Anderson
Braden Cook
Xavier Duran
Dominic Esparza
Tyrique Jara
Braxton Mayhew
Ty Michael
Kyle Scott
Cooper Tixier
WELDING INTERMEDIATE
Braden Cook
Xavier Duran
Riley Harmon
Christian La Cost
Westin Langston
Gabriel Sanchez
Christopher Torres
HONORS DISTINCTION KEY
*** Summa Cum Laude 4.0 GPA
** Magna Cum Laude 3.99-3.75 GPA
* Cum Laude 3.50-3.74 GPA