Image
Mid-summer seat belt enforcement period begins Monday
Stay buckled this summer or you could get a citation. Starting Monday, July 24, through Friday, August 4, the Colorado Department of Transportation, the Colorado State Patrol (CSP) and 51 participating law enforcement agencies throughout Colorado will begin the July seat belt enforcement period. During the same enforcement period last year, 788 citations were issued to drivers for not wearing a seat belt or having unbuckled passengers in their vehicle. That included 68 drivers who had an improperly restrained child in their vehicle.
Image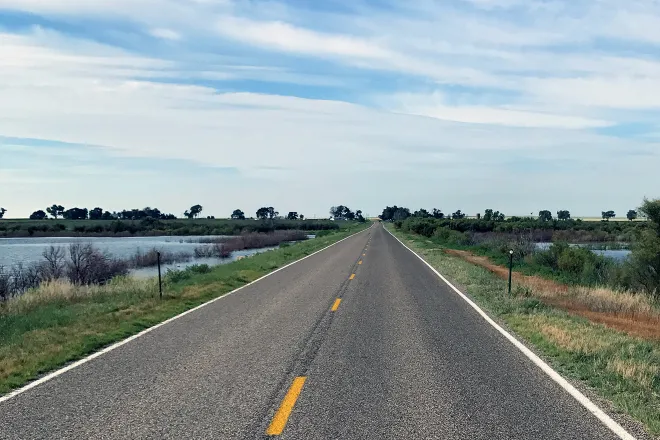 Recent data shows that 479 drivers and passengers were killed in vehicle crashes in Colorado in 2022. Most of those lives lost (236) were not wearing a seat belt. Thirteen Colorado counties reported that 100 percent of their roadway fatalities in 2022 involved unrestrained vehicle occupants. Those counties were: Baca, Bent, Costilla, Gilpin, Gunnison, Hinsdale, Jackson, Kiowa, Logan, Phillips, Prowers, Saguache, and San Juan. 
"Refusing to wear a seatbelt can't be uncoupled with a possible consequence of death. So, while you may have the right not to protect yourself, I can't accept that unbuckled fatalities in Colorado are a far too common occurrence," said Colonel Matthew C. Packard, chief of the Colorado State Patrol. "As we head into the last Click It or Ticket enforcement period of the summer, remember, there can be consequences much worse than a citation."
Last year, 1,963 drivers were issued citations in Colorado during the April and May Click It or Ticket enforcement periods. This year, 2,992 drivers were cited during the same two enforcement periods. This is a nearly 52 percent increase from last year. 
Image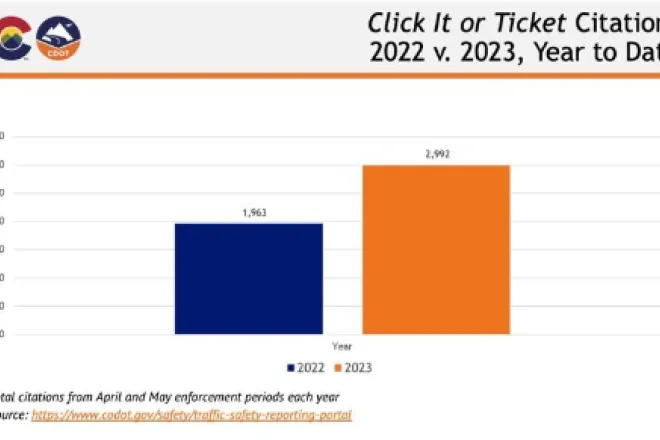 "Those who decide to go unbuckled must understand they are at greater risk of injury or death in the event of a crash," said CDOT's Office of Transportation Safety Director Darrell Lingk. "We have the power to lower the rate of unbuckled traffic fatalities with one simple action: wear your seat belt."
Properly wearing a seat belt is crucial — no matter if you're the driver, a passenger, or sitting in the second or third row of a vehicle. According to the National Highway Traffic Safety Administration (NHTSA), wearing a seat belt in the front seat of a vehicle reduces the risk of moderate injury by 50 percent and fatal injury by 45 percent. Additionally, nearly 60 percent of backseat passengers who were killed in a crash in 2021 nationwide were unbuckled. Wearing a seat belt will always be the first choice a driver or passenger can make to prioritize safety while on the road.
Image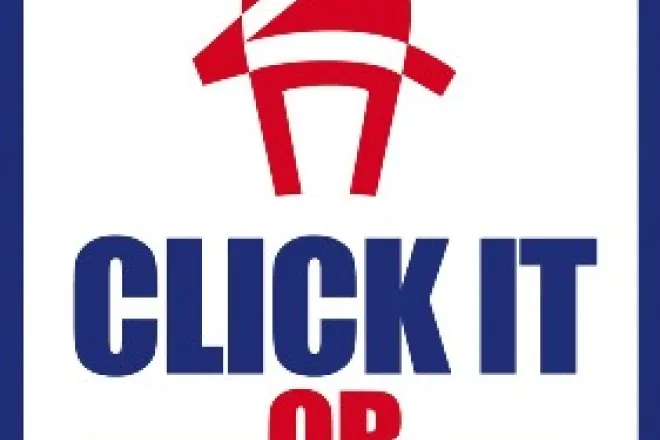 The Click It or Ticket campaign urges Coloradans and visitors to fasten their seat belts, every ride, every time. Proper seat belt usage is the No. 1 way to protect yourself in the event of a vehicle crash and minimize the risk of injury or death. Fines for not buckling up begin at $65, and parents or caregivers caught with an improperly restrained child can receive a minimum fine of $82.
Adults — Colorado has a secondary enforcement law for adult drivers and front-seat passengers. Drivers can be ticketed for violating the seat belt law if they are stopped for another traffic violation.
Teens — Colorado's Graduated Drivers Licensing (GDL) law requires all drivers under 18 and their passengers, regardless of their age, to wear seat belts. This is a primary enforcement, meaning teens can be pulled over simply for not wearing a seat belt or having passengers without seat belts.
Children — Colorado's Child Passenger Safety law is a primary enforcement, meaning the driver can be stopped and ticketed if an officer sees an unrestrained or improperly restrained child under age 16 in the vehicle.