Image
More fire danger Tuesday for southeast Colorado
High fire danger returns to southeast Colorado Tuesday, spreading to a larger area from Monday's warnings.
The National Weather Service offices in Pueblo and Goodland, Kansas, have issued a red flag warning for nearly all of the southeast quadrant of the state. The warning will be in effect from 11:00 a.m. to 6:00 p.m. for most areas. Winds are expected to gust up to 55 miles per hour, while relative humidity falls into the mid-teens.
Image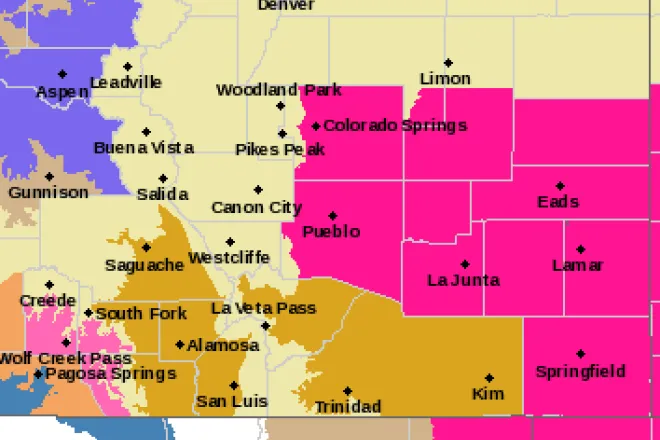 All or portions of 13 Colorado counties are part of the warned area, including El Paso, Elbert, Lincoln, Cheyenne, Kiowa, Crowley, Pueblo, Huerfano, Las Animas, Otero, Bent, Prowers, and Baca counties. Portions of Huerfano and Las Animas counties are also under a high wind warning, with gusts up to 65 mph possible. A high wind warning has been posted for the San Luis Valley as well. Those warnings are expected to run from 8:00 a.m. to 3:00 p.m.
Temperatures across the area are expected to reach the mid- to upper 50s Tuesday.
Red flag warnings are also in effect for neighboring counties in Kansas, Oklahoma and New Mexico.
Drought conditions continue to plague eastern Colorado, with much of the eastern half of the state at least in moderate drought. Severe, extreme, and exceptional drought stretches from southeast Cheyenne County to southeast Las Animas County. Far southeast Baca County is in exceptional drought, the worst category on the scale.
Image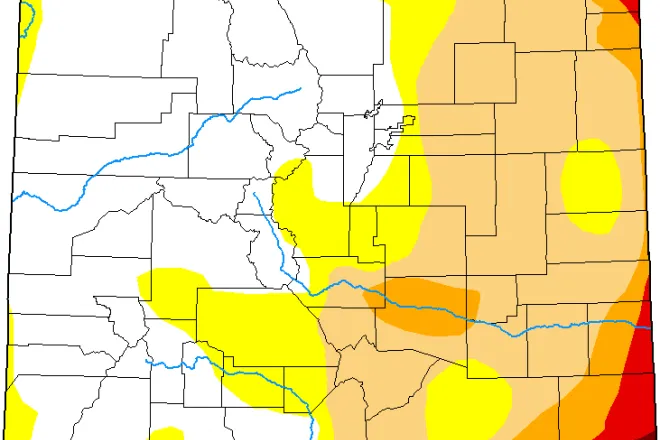 Snow may bring some relief to the area Wednesday night, with increasing chances Thursday. From one to three inches of snow is possible across the plains throughout the day Thursday. Temperatures will also drop sharply Thursday, with highs in the 30s predicted.
Red flag warnings are issued when critical fire weather conditions are occurring, or expected in the near term. All outdoor activities which could spark a fire are strongly discouraged. Any fires that do start can spread quickly, placing life and property at risk.