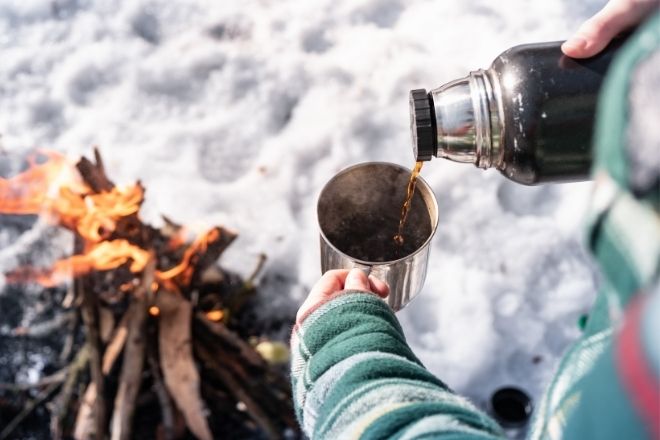 Published
Thursday, January 6, 2022
The majestic snow-covered mountain scenes is something that words cannot describe. But it can be problematic to camp in the winter if you aren't taking the proper precautions before pitching the tent. These are some of the most important winter camping essentials to bring on your trip.
Effective sleeping gear
When camping in the winter, it's of the utmost importance to keep your body warm while sleeping. Purchasing a high-quality, well-insulated sleeping pad gives you that warmth and comfort you seek.
Additionally, a sleeping pad allows you to pack extra items because one pad will keep you toasty. However, if you are a cold sleeper regardless of the weather, you might have to double-dip on the pads, or you can invest in some sleeping bag liners.
Portable power station
Being out in the wilderness provides a serene experience that doesn't require you to plug in throughout the day. However, having a portable power solution gives you an energy supply when it's needed. You are better off having a power outlet and not using it than needing a power outlet and being out of luck.
Moisture-wicking clothing
Although you may not feel it, you sweat in your clothes when hiking on a winter trail. That sweat will dry on your skin, giving you chills. Hence, it's beneficial to wear multiple layers of clothing made of moisture-wicking material. Using synthetic polyester fabric is best to stave off the freezing temperatures while keeping odor to a minimum.
Insulated drinking bottle
It's vital to stay hydrated when camping in any season. But it's hard to keep your water supply from freezing over if you don't have the proper gear. A bottle insulator prevents your liquid from turning into a solid, no matter the weather conditions.
Consuming cold water burns more calories while drinking. Thus, it's crucial to control your water's temperature throughout your adventure.
Socks and toe warmers
If there is one part of the body you must protect from the cold, it's your feet and toes because they affect your body heat most. It's tricky to keep your feet dry and warm, especially if you are stomping around in the snow for multiple hours a day.
Putting on a pair of insulated wool socks provides your toes an excellent barrier from the wet snow, keeping your feet dry. Otherwise, you are susceptible to frostbite if snow sneaks into your shoes. You may also use toe warmers to offer a campfire-like environment for your distal phalanges.
Before trekking out to your favorite campsite, make sure you have the most important winter camping essentials in your backpack. After all, you don't want to be like Harry in Dumb and Dumber and have your hands freeze because you didn't prepare.