Image
Obituary – Lauretta Mae Blankenbaker
Lauretta Mae Blankenbaker
September 3, 1933 - February 13, 2022
Lauretta Mae Price Blankenbaker was born September 3, 1933, in Gate, Oklahoma, to Tom (Milton Lester) and Opal Pearl Hester Price. Lauretta entered Heaven's Gates February 13, 2022.
Image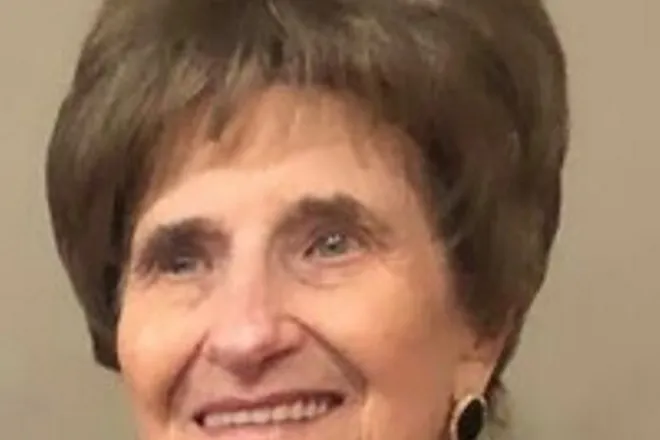 When Lauretta was five years old the family moved from Oklahoma to Wild Horse, Colorado. Her years working on the farm taught her a work ethic and strength of character she was known for all her life. 
Her siblings, Leonard Price, Roberta Harris Daly, and Virginia Marble and their spouses, and her nephews and nieces, were important to her. Lauretta loved the Wild Horse and Kit Carson communities, and she valued those friendships all her life.
Lauretta met Rodney Eugene Blankenbaker at a Kit Carson Day dance September 19, 1949, and they were married August 13,1950 in Wild Horse at the Lutheran Church. They moved to their farm 25 miles northeast of Kit Carson and farmed there until May of 1984,  
The persistent invitations to a revival at the Full Gospel Lighthouse Church in Cheyenne Wells by her mother-in-law, Jane, resulted in Lauretta accepting Jesus Christ as her Savior and Lord in November 1951. Her husband, Rodney, made his decision for Salvation in April 1951 and now they were united in their faith. Lauretta was determined to have her family be on time, even though the drive was 45 miles, to the Assemblies of God Church in Eads. Rodney and Lauretta made it a priority to have their family actively involved in the church. 
Lauretta taught Sunday School for 20 years, served on the Ladies Missionary Council in various positions, and was involved in the visitation ministry until they retired from the farm. 
They lived in Stratton and attended the Bethel Assemblies of God Church for six years. In 1988, they made the Evangelical Free Church in Burlington their church home.
Lauretta bore five children: Ronda Sue August 21, 1951, Cindy Lou September 15, 1953, Patricia Elaine October 26, 1954, and Rebecca Diane February 28, 1956. Lauretta and Rodney had almost given up hope of having a son, but to their delight Larry Eugene was born November 9, 1958. 
Lauretta raised her family while working endlessly on the farm. When it was time to retire, the farm was leased to their daughter, Patty, and her husband, Dave Ritchey. 
Rodney and Lauretta were so appreciative that the farm could stay in the family, and how it prospered due to Dave and Patty's hard work.
Lauretta was very involved in her community. As a result of all her leadership roles and dedication in 4-H, she was awarded a trip to Salt Lake City, Utah, by JC Penney. She drove a school bus for 10 years and served on the PTA advisory board. She served on the county and the state boards for Farm Bureau. She was instrumental in compiling the Cheyenne County history book. She was a VFW Auxiliary member. Lauretta was very involved in the Republican Party and in working on the election board.  
Her hobbies were embroidering, needle point, scrap booking, and playing games, especially pinochle and dominos. 
Lauretta and Rodney were avid fans of the National Finals Rodeo, attending them for more than 30 years. They became  active members in the Flying Farmers in 1960. Lauretta was Woman of the Year in 1985 and 1986 and held other offices. The conventions allowed them to travel. Flying scared her but she learned to land the plane. They owned six different planes.  
She loved encouraging those in the nursing homes by visiting and playing cards.
Lauretta will always be known for her beautiful smile and her positive attitude of always trying to see the best in people, which she attributed to her faith in God. She loved Jesus and strived to live a life that honored Him. 
She was gifted in encouraging so many by her visits and with her phone calls and letters.  She showered her grandkids and great grandkids with cards and letters, and delighted in getting correspondence from them.
Lauretta was preceded in death by her husband of 65 years, Rodney; granddaughter, Morgan Ritchey; grandson, Aaron Siders; infant sister, Kathern; sister, Virginia Marble; and brother, Leonard Price.
Lauretta is survived by her sister, Roberta Harris Daly; children, Ronda (Tim) Siders of St. James, Missouri, Cindy (Jack) Goodell of Eaton, Patty (Dave) Ritchey of Kit Carson, Rebecca (Jerry) Harrel of Burlington, and Larry (Sheri) Blankenbaker of Buffalo, South Dakota; 15 grandchildren; 47 great-grandchildren; two great-great grandchildren; nieces and nephews; and numerous friends. 
Memorial contributions may be made to the McArthur Senior Center in care of Brown Funeral Home, P.O. Box 475, Burlington, CO 80807.
Arrangements were under the direction of Brown Funeral Home.