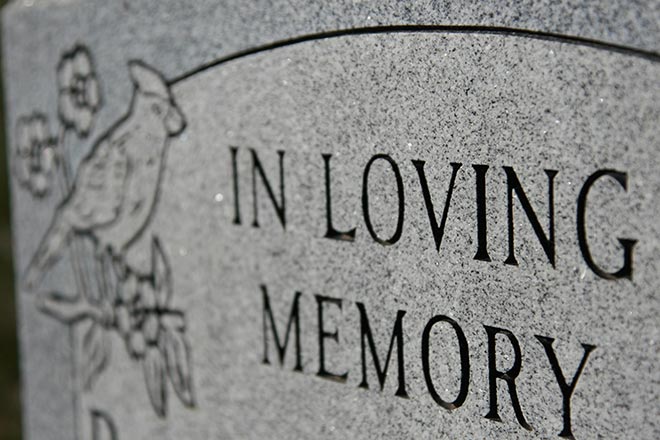 Published
Wednesday, January 15, 2020
Rosemary Marjorie Stoker
January 27, 1935 - January 12, 2020
Rosemary Marjorie (Schmitt) Stoker was born January 27, 1935, in Herington, Kansas, to Leonard and Marjorie Schmitt. Rosemary was the oldest of four children.
She spent her early years at the family farm in the Prairie Queen community. She attended school until the eighth grade in Galatea, and then attended high school in Eads, graduating Valedictorian in 1952.
After graduation she worked in Eads for Plateau Natural Gas. In January of 1955 the company asked her if she would transfer to Limon and work for the company, so she moved to Limon.
After several months of long-distance dating, Rosemary married the love of her life, Frankie Stoker, December 10, 1955, in Limon. Frankie stated that they married on Saturday, went to Colorado Springs for their honeymoon and he was back to work Monday!
In February 1956 they moved to Haswell. Gary was born later that year, and in January 1957 the little family left Haswell to travel to several different states where Frankie worked for a survey crew. Along the way twins Brent and Kent were born (1958) and Paul (1961) all while living in a trailer, traveling with the survey crew. Can you imagine four small boys in a trailer!
One of the stories is that they were moving and the whole roof blew off of the trailer, and Frankie's paycheck and several items were lost. They eventually got the check reissued, but Rosemary said that is when they realized they were done living paycheck to paycheck and started cutting back where they could so they could start saving!
In 1962 they moved their family back to Haswell to buy the propane business from Frankie's sister, Muriel, after her husband, Hubert Davis, was killed in a tragic accident. Rosemary did the bookwork for the propane business, and they both worked for Bill Marx at the Haswell Garage. In 1985 they purchased the business from the Marx family.
Rosemary was also the town clerk for Haswell for many years, was the secretary for the Haswell United Methodist Church and played the piano there for almost every Sunday!
In 1998, they sold their business to son, Paul, and his wife, Glenda, and retired.
After retirement they got to enjoy some traveling with friends and family. They enjoyed the bus trips that they went on with the Haswell seniors' group and had more time to travel to spend time with their family.
Rosemary loved attending sporting events and was her children and grandchildren's biggest fan. When Blake and Colby came along, she was thrilled to have grandchildren close by, and attended every event, program and sporting event they were involved in and enjoyed every moment! Rosemary loved bowling and was on a women's league bowling every Wednesday in Eads and attended the State Bowling Tournament numerous years. She also bowled with Frankie on mixed leagues in Eads and La Junta.
She was known in her family and community for her homemade ice cream. She made it at least once a week, always had some in the freezer, and loved sharing it with friends and family. Her grandchildren always looked forward to the ice cream!
She was a member of the Haswell Senior Citizens and loved playing cards and visiting.
After falling and breaking her hip in November 2018, she moved to the nursing home in Eads. It took a little while to get adjusted but when she did, she enjoyed the company, loved playing bingo and the other games, doing her word search puzzles, the adopted grandchildren and playing the piano for the residents. Frankie joined her in June 2019, and she spent her last months with the love of her life beside her every day.
January 12, 2020, Rosemary Stoker, 84, passed away peacefully with her husband by her side. Rosemary is survived by her husband of 64 years, Frankie Stoker; son, Gary (Carol) Stoker of Wellington; sons, Brent and Kent Stoker of Bennett; son, Paul (Glenda) Stoker of Haswell; grandchildren and great grandchildren, Tyler (Becca) Stoker, Lance (Molly) Jaxson, Brady and Dominic Stoker, Damon, Emma and Talen Stoker, Brock (Ashley) and Kaylee Stoker, and Blake and Colby Stoker; brother, Alan Schmitt of Salina, Kansas; sister Nancy (Richard) Olson of Tonganoxie, Kansas; sister-in-law, Muriel Wiser of Haswell; sister-in-law, Shirley Scarlett of Denver; and numerous nieces, nephews and friends.
Rosemary is preceded in death by her parents, Leonard and Marjorie Schmitt; brother, Lewis Schmitt; sister-in-law Kathleen Schmitt; brother-in-law, Hubert Davis; brother-in-law, Bud Wiser and nephew Dennis Schmitt.
Visitation for Rosemary Stoker will be held Saturday, January 18, from 11:00 a.m. to 1:00 p.m. at the Haswell Community Building. Funeral services will follow at 1:00 p.m.
Burial will be held at the Haswell Cemetery.
Memorial contributions may be made to the Haswell United Methodist Church or to the Haswell Community Building.
Arrangements are under the direction of Brown Funeral Home.