Image
Obituary - Carol Ann Terrell
Image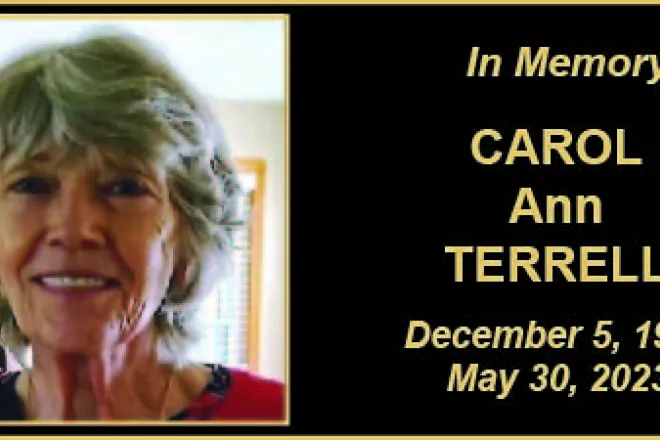 Carol Ann (Randel) Terrell passed away May 30, 2023, after a brief illness. She was 77 years old. 
Born December 5, 1945, to William and Florence Randel of Kit Carson, she was the eighth of their 10 children. 
After graduating from high school, she immediately moved to Denver and gained employment as an operator at AT&T. She spent her entire career with this company and worked her way up to great success. 
She was a member of the Achievers Club and received the Team West Platinum Award in 1988. 
Carol married Gary Terrell in 1988. They moved to Strasburg, in 1999 where they enjoyed their retirement. 
Carol is survived by her husband, Gary; sisters, Alice Borkosky and Barbara Cummins; brothers, Carl and James Randel; stepsons, Tracy and Christopher Terrell; stepdaughters-in-law, Amy and Tammy Terrell; and grandchildren, Kaila, Madison, Megan and Katelyn. 
A Mass of Christian Burial will be celebrated June 2, 2023, at 1:00 p.m. at St. Augustine Catholic Church in Kit Carson, following a prayer at 12:30. Services will conclude with a Catholic Rite of Committal at the Kit Carson Cemetery and a community luncheon.
Arrangements are under the direction of Love Funeral Home.