Image
Obituary - Donald "Don" L. Gamble
Image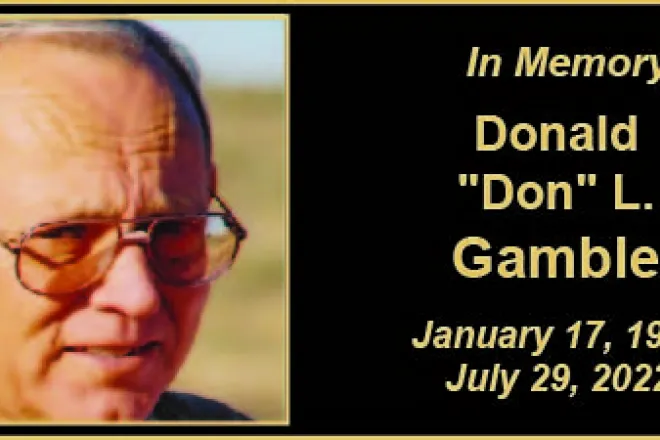 Donald Lee Gamble was born January 17, 1948, in Lamar to Donald Lee Gamble Sr. and Juanita Landreth Gamble. His father passed away when he was three years old.  Don and his mother lived in Lamar.  Don attended Lincoln School, Lamar Middle and Lamar High School. 
Don started selling donuts when he was in the fifth grade. Even at that age, Don was quite the salesman.  Some of his best customers were the patrons and employees of the local brothel.  In the seventh grade, he delivered the Denver Post newspaper as well as the Lamar Daily News.  Don started helping at Wood Funeral Home when he was in high school.  He also worked part time for John Ranch at the Sinclair station on North Main.  Don's senior year of high school, he received his Colorado State Board of Funeral Directors and Embalmers Apprentice License.  Also during his senior year in Woodworking class, Don made the podium for the funeral home chapel that is still used today.
Shortly after high school, he enlisted for three years in the US Army.  He served from September 12, 1968, until September 12, 1971.  During this time, he had basic training in Fort Lewis, Washington, advanced training in Fort Rucker, Alabama, and went to Vietnam April Fool's Day, April 1, 1969.  While there, he became a Screaming Eagle for the 101st Airborne. Don's military occupation was a door gunner on a Huey helicopter.   He spent 11 months and 25 days in Vietnam.  Upon departure from Vietnam on April Fool's Day, April 1, 1970, he returned to Fort Carson, where he remained until he was honorably discharged. 
Upon his return home, he went back to work for Dean Wood at Wood Funeral Home.  He bought the Monument Shop in 1971 from Mr. and Mrs. Paul Stewart.  In December 1973, Don became partners with Dean Wood and the name was changed to Wood Gamble Funeral Home.  In 1975, they built a new chapel for the funeral home, it was the largest from the Kansas line to Pueblo.
In 1978, Don became licensed as a Mortuary Science Practitioner under the Colorado Funeral Service Board. Dean Wood passed away in 1981. In 1983, Don sold the funeral home to the Peacock Family.  At this time, he built a new monument shop, and in 1993 sold it to the Peacock Family.
In December 1973, Don married Barbara Dreiling in Garden City, Kansas.  In May 1975, they lost their first child, a daughter.  In September 1976, they were blessed with another daughter, Angelene, and a son, Jared Smith, came along in July 1987.
Don was active in the American Legion Post 71 and VFW Post 3621.  Don was the first Vietnam Veteran to be elected Post Commander of the American Legion.  In 1989-1990, Don was awarded the All-State Quartermaster Award, the only person from the local post to receive this award.
Don has also been a charter member of the Fraternal Order of Eagles since 1979.
Don is preceded in death by his parents; infant daughter; half-brother, Dean Smith; and friend and business partner, Dean Wood.
Don is survived by his wife of 48 years, Barbara; daughter, Angelene (Frank) Perez; son, Jared (Becca) Smith; grandchildren, Zadryan and  Zadaya Perez; and brother, Elvin (Sherry) Smith of Lamar; as well as a host of friends.
Visitation for Don will be held Wednesday, August 3, 2022, from 4:00 to 6:00 p.m. at the Peacock Family Chapel.
A celebration of life for Donald Lee Gamble will be held at 10:00 a.m. Thursday, August 4, 2022, at the Peacock Family Chapel with Pastor Paul Floyd officiating. Interment with full military honors will follow at the Fairmount Cemetery in the Veterans' Section.
Memorial contributions may be made to the Lamar Area Hospice either direct or in care of the funeral home office.
Arrangements are under the directions of Peacock Funeral Home.