Image
Obituary - Emma Rose Pearce
Image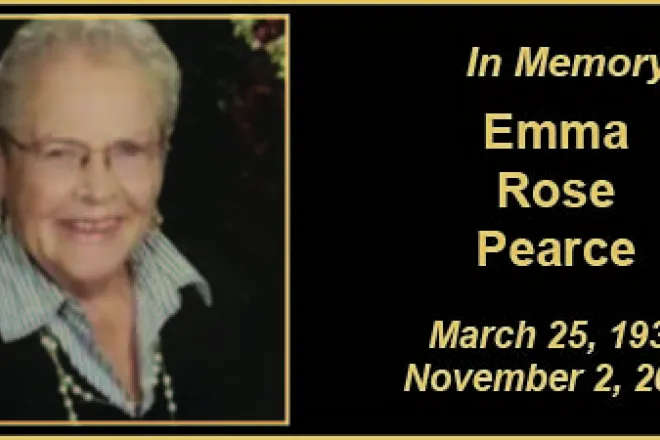 Named after her two grandmothers, Emma Rose was born March 25, 1937, at 4:00 a.m. in the middle of a bad dust storm in Cheyenne Wells to George and Beulah Hogan of Kit Carson. The first of three children, Emma was raised on the family ranch 9 ½ miles southeast of Kit Carson. She did daily chores and was cited by her youngest brother as being the best cow milker and an overzealous brothers' keeper. 
Emma cited her parents as being the most important influence in her life, instilling in her a strong Catholic faith and values like love of family, working hard, and being honest. She worked through high school at a local restaurant in town, and wrote that her father told her when she got her first job to work hard because shirking on the job was as bad as stealing from the cash register. 
Emma was a second-generation graduate from Kit Carson School. After her graduation in 1955, she went on to attend Colorado State College in Greeley, where she would finish her four-year Bachelor of Arts degree in three years, and was granted a permanent certificate to teach in any of the public schools of Colorado. Emma taught elementary school in Pueblo for five years before marrying Ray Pearce in June of 1962. To the union was born one child, Zane William Pearce, November 11, 1963. 
In the fall of 1965, Emma and Zane moved back to the family ranch, and Emma took a position teaching remedial reading at Kit Carson School. Most notable during her teaching career was her time teaching first through third grades, which was called the ungraded primary, alongside Norma Jean Polley. Many of her students remember back on that time fondly. Teaching for a total of approximately 32 years, Emma would retire from Kit Carson School June 1, 1992. 
Post retirement, Emma kept busy providing day care and caring for George and Beulah, allowing them both to remain at the family ranch until their deaths. Emma was the first single mother in the State of Colorado to adopt, and in August of 1969, Emma welcomed her daughter Laura Frances, born May 13 into the family. Emma was proud of being a parent, her education, being a good citizen, and her Catholic faith. While Zane and Lori were Emma's proudest achievements, they also became her biggest heartbreaks as they both preceded her in death. 
The joys of Emma's life were her five grandchildren - Steffan, Cydney, Skylar, Savanna, and Sage. Sometime after 2006, Emma moved to Loxahatchee, Florida, to be closer to Lori and the grandchildren. Emma developed a special bond with each grandchild. With the assistance of her niece, Tracy, and Tracy's husband, Bob Kenndy, Emma moved back to Colorado in early 2020 and took residence at Cheyenne Manor in Cheyenne Wells, where she passed away peacefully in her sleep at age 86 November 2, 2023. 
Those who met Emma were left with an impression - she was a character, a force, a pistol, tough, sharp witted, and known to freely dish it out to anyone in her presence. If she didn't know who you were she wasn't too shy to say, "Well, who are you?" 
Emma is survived by her grandchildren, Steffan, Cydney, Skyler, Savanna, and Sage; brother and his wife, Tim and Jan Hogan; and many nieces, nephews, grand nieces, grand nephews, and cousins.
Emma is preceded in death by her parents, George and Beulah Hogan; son, Zane; daughter, Laura; brother, George, and his wife Judy.
The Rosary will be prayed Wednesday, November 15, 2023, at 6:30 p.m. in the St. Augustine Catholic Church in Kit Carson.
Funeral Mass of Resurrection will be held Thursday, November 16, 2023, at 9:30 a.m. in the St. Augustine Catholic Church in Kit Carson.
Arrangements are under the direction of Brown Funeral Home.