Image
Obituary - Lynne Marie Lillard
Image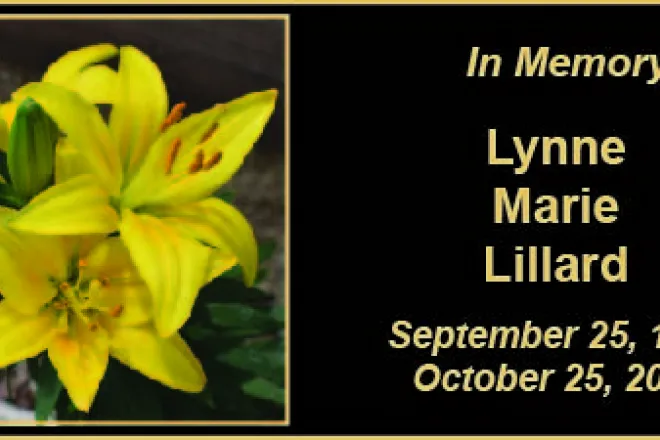 Lynne Marie Lillard was born September 25, 1970, and she died in faith in Christ Jesus, her Lord and Savior, October 25, 2023, at the UC Health Hospital in Greeley. She fought the good fight; she finished her race, and is now safely home in the presence of the lover of her soul, Jesus Christ.
Lynne grew up and attended schools in the Thornton area. She attended Colorado School of Mines on a basketball scholarship, and later transferred to Colorado State University.
She and her husband, Avery, were married June 13, 1992. Together they raised two beautiful and talented daughters, Korina Marie and Kaylin Marie. Lynne was very active in supporting and coaching them in their athletic talents. Both girls were very successful, most specifically, at volleyball.
For a period of years, she and Avery owned and managed over 30 head of registered paint Quarter Horses, and named their business, "Thunder Hill Paint and Quarter Horses." She had this statement on her mirror: "If you're gonna' hop in the saddle….be ready for the ride!"
Lynne was an extremely skilled businesswoman, owning and managing a successful trucking business, Flatwater Express. She also was the secretary and administrator for Zion Lutheran School in Brighton for a number of years. Her faith and her impact was felt throughout the school. She also coached volleyball there. Lynne's skills in communicating in numerous venues was immediately recognized by all.
She is survived by her loving husband, Avery Lillard; daughters, Korina (Christian) Hammerl, and Kaylin Lillard. She had her parents, Jim and Jan Zastrocky, and her two brothers, Christian (Nid) Zastrocky (Yanika, age 4, and Cecil, age 18 months), and Daniel (Ashlee) Zastrocky, with her. She is also survived by her brother-in-law, Colin (Mary) Lillard, and their children, Lindsey, Reagan, Phoebe, Austin, and Andrew.
Funeral services will be held Wednesday, November 1, 2023, at 1:00 p.m. at the United Methodist Church in Kit Carson.  Burial will follow in the Kit Carson Cemetery.  
Visitation will be held starting at 11:00 a.m. prior to the service at the church.
Additional services will be held November 3, 2023, at 1:00 p.m. at the Calvary Chapel in Castle Rock.
Memorial contributions may be made to the Christ The King Fellowship - Calvary Chapel; 10 County Road 53; Keenesburg, CO  80643, and will be designated for the Lynne Lillard Memorial Fund.
Arrangements are under the direction of Brown Funeral Home.