Image
Image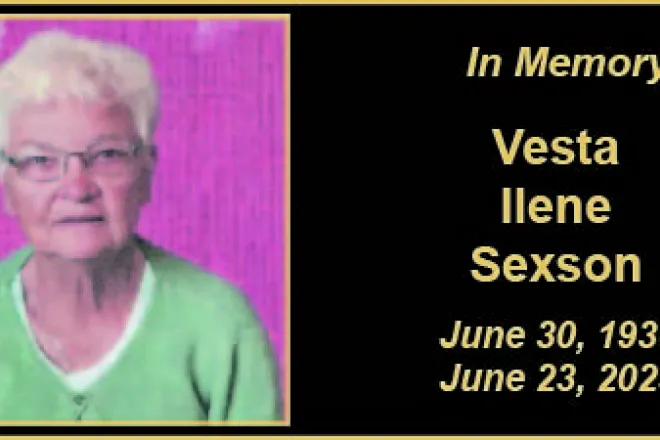 Vesta Ilene Sexson was born on June 30, 1938, in Wauneta, Nebraska. Vesta was the oldest of seven girls, which included two sets of twins, born to John Chester and Leona Geraldine (Smith) Browning and stepmother, Opal Browning.
She passed away peacefully the morning of June 23, 2023, at the Washington County Nursing Home in Akron with the love of her family surrounding her.  
Vesta attended school in Nebraska from first grade to ninth grade.
Vesta met her spouse, Dale Richard Sexson, and was married November 14, 1953, at Benkelman, Nebraska. Vesta and Dale had three children, Dennis Dale, born June 5, 1957; Danny Eugene, born April 12, 1960; and Treena Leanne, born July 11, 1968.
Vesta and her family lived in St. Francis, Kansas; Sheridan Lake, Colorado; Monument, Kansas; and Lamar, Colorado, until Dale's death. She then moved to the Fort Morgan and Akron areas to be closer to Treena and her family.
Vesta, Dale and the kids lived southwest of Sheridan Lake for many years, as Dale worked on the Garvey Farms Headquarters. Dale, Vesta and the three kids all worked together, farming the operation. Vesta was not only a wife and mother, but also was a tractor driver, along with the rest of the family. She put countless hours in on a daily basis running the tractor from the spring through the fall. This was not Vesta's only way of helping make a living for her family. She also grew a family garden every year in the summer, that she tended to after finishing work on the tractor. Vesta enjoyed her garden, as it was her time doing her thing, and she had a knack to making things grow. She kept her "green thumb" throughout her life, and when she moved into the Washington County Green House in Akron in November 2016, she always requested rose bushes for Mother's Day and her birthday to plant. Her favorite pasttime was to sit outside and look at all of her rose bushes and the garden's that she helped with at the Green House.
Vesta worked in the medical field for many years as a Certified Nurse's Assistant, working at the Cheyenne County Hospital; Good Samaritan Nursing Home in St. Francis, Kansas; Saint Joseph Hospital of the Plains in Cheyenne Wells; Prowers Medical Center in Lamar; Logan County Hospital in Oakley, Kansas; and Colorado Plains Medical Center in Fort Morgan. Vesta's love for medicine of many years showed when she saved a gentleman's life at a square dance in Akron, and was acknowledged for her medical education and abilities in the Colorado Plains Medical Center's monthly magazine.
Vesta chose to take some time out in her earlier years of working as a Certified Nurse's Assistant and drove a school bus for Plainview School in Sheridan Lake when Dennis, Danny, and Treena were in school. She was very well known for driving the sports teams to ballgames and always looked forward to Friday and Saturday nights.
Vesta always had an interest in education, taking required classes and training's for working in the medical field. She attended Colby Community College in Colby, Kansas, receiving her GED and, at the age of 70, decided that she still had the interest in education, and went to North Eastern Junior. College in Sterling to receive her degree in cosmetology. She graduated at the top of her class.
Vesta had a huge passion for sewing, starting at the age of 15. One could always find her in her special place, the sewing room. She spent many hours sewing for herself, family members, and friends. She was a 4-H leader for sewing, and helped many individuals with their projects, including sewing with her sister, Barbara. Barb was always ready for the phone call from Vesta asking for help on sewing questions. It was well known that it was for both of them to just gab on the phone! Vesta's expertise in sewing was found in making little boys' and girls' outfits, doll clothes for the children, and granddaughters, baptism/wedding dresses, and rodeo outfits, just to name a few.
She did choose to take a big step in sewing and attempt to help Treena with her 4-H sewing project when living in Kansas. Treena asked her mom to help her with a skirt and blouse outfit. So, Vesta said she would help her with her outfit. Vesta suggested a 10-panel pleated purple skirt - that had to be gathered, mind you!, and a white long sleeve blouse. Needless to say, the summer was very long, but not as long as the night before Treena's 4-H project interview with the judge! Vesta told Treena how to do the pleated skirt process, and Treena, thinking she knew more than her mother, chose a different way. Needless to say, the last gathered pleat broke on the skirt, and Treen lost the argument and had to re-do the gathering of the 10 pleated skirt. Treena demonstrated the outfit the next day, hoping and praying that would be the end to a most hated project, to find out she won Grand Champion outfit and was headed to Kansas state fair! Vesta was very excited to Treena's not so excitement. Vesta then chose Treena to add a purple vest to the white blouse and 10 pleated skirt! On a good note, the outfit made it to the Kansas State Fair, and Treena won Reserve Grand Champion.
Vesta was a wonderful mother to Dennis, Danny, and Treena. She always enjoyed being involved and helping with school functions and fair time. If Vesta didn't have enough to do with working and keeping up with home duties, and keeping her children going in the right directions, her children always made sure she was available for making homemade (not boxed) angel food cakes for Dennis' senior cake walks, or homemade pies (not store bought) for Danny's junior class concessions stands. When the two boys graduated, Vesta thought that it would be a breeze getting Treena through school. Little did she know, Treena had other plans for mom. Treena was really good about volunteering her mother to help with things, like sewing 13 choir outfits that were due in a week and a half, 10 Pep Club outfits and, again, many concessions stands. Yes, she grumbled, but every one of them done to Vesta's perfection!
Vesta was always excited to find out she was going to be a grandmother and great grandmother. Unfortunately, due to kids moving to different areas, she did not get to spend as much time with all of them as she would have liked. She did enjoy always seeing pictures of all of them as they grew up to adults, and the younger ones that continue to grow.
Vesta and all five of her sisters went on a trip to Rhode Island to meet their other sister, Doris, for their sisters reunion.
Vesta enjoyed everything she did in life, but going on a dream vacation - as she called it - was something she always talked about. She and Barbara went on vacation to Germany. The remembrances of this trip were always thought of!
Vesta Ilene Sexson is survived by her son, Danny of Paris, Texas, daughter, Treena (Cody Priddy) of Cheyenne Wells; grandchildren Bo (Kori) Sexson, Blain (Tess Schwietermann) Sexson and girls Amanda (Tyler Wade) Parmenter, Lacie (Grady) Groshans and Makala Sexson; great grandchildren, Truett and Kenlee Sexson, Mallory and Emily Sexson, and Tysie and Tayah Parmenter. She is also survived by her sisters, Barbara McComas of Ingram, Texas, Jean (William) Utter of Larspur, Joy Roylston of Mt. Hope, Kansas, Doris Richards of Boynton Beach, Florida, and Deloris ArGuello of Wichita, Kansas, as well as numerous nieces, nephews, great nieces, great nephews, and many friends.
A celebration of life was held July 1, 2023, at the Peacock Family Chapel with Jamie Crockett officiating. Interment followed at the Riverside Cemetery.
Arrangements were under the direction of Peacock Funeral Home.