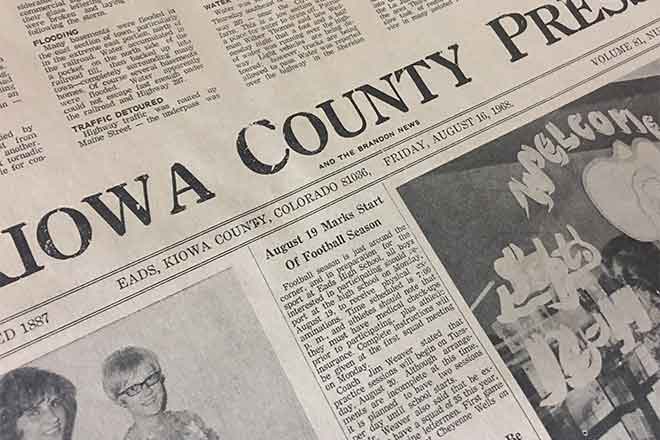 Published
Friday, December 8, 2017
15 Years Ago
December 6, 2002
USDA announced an extension of emergency grazing of Conservation Reserve Program acreage in Colorado, Texas, Utah and Washington to Dec 31, 2002.
25 Years Ago
December 3, 1992
Towner News - Ann Harkness: Over the weekend, a winter storm brought between 4 & 5 inches of snow.
About Town - Ida Lessenden: Our hearts go out to the travelers who were caught in the blizzards last week & to all the victims of the tornadoes.
Sheridan Lake News - Wilma Eitel & Debbie Harris: The snow is starting to melt after all the storms. We need the moisture but sure could have done without the wind.
40 Years Ago
December 9, 1977
Clinton L. Evans of the east end, Bill B. Buck of Eads, and Don Briggs of Haswell were top vote getters in the Agricultural Stabilization & Conservation Service's community committee election.
Net farm income in Colorado dropped another 22% in 1977, providing the lowest return to farmers since 1971 & constituting a 55% drop in income from the "good year" 1974.
The Plainview Band uniform fund was given a sizable boost when a donation of $500 was received from Mr.& Mrs. Theo Boulware.
Kathlyn Forster of Eads was honored with a surprise luncheon in Lamar. Mrs. Forster was presented an engraved silver tray for her faithful Cancer Society service to Kiowa County & southeastern CO.
50 Years Ago
December 8, 1967
The annual meeting of Eastern Slope Rural Telephone held in Eads deemed a success with over 130 people attending. This was the first meeting held in Eads since the acquisition of the Eads exchange in January 1967.