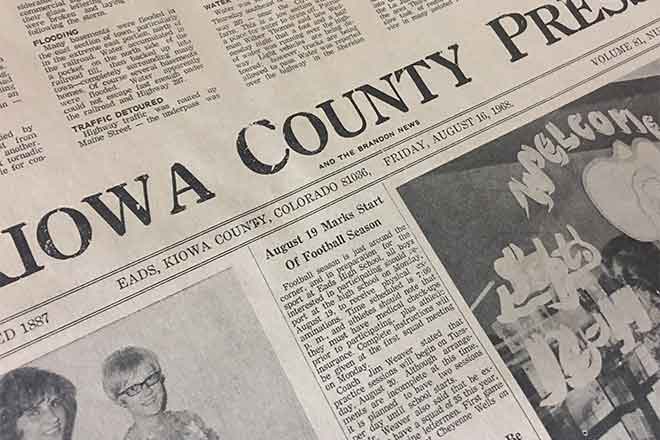 Published
Sunday, April 1, 2018
15 Years Ago
March 28, 2003
The Eads Town Board learned the plans for constructing a new water system are complete & advertising for bids has started.
Tiffanie Gooden And Treva Richardson, Eads seniors, were invited to play in the Colorado Coaches Games
25 Years Ago
March 31, 1993
Eads School District suggests budget cuts for 1993-1994. Discontinue Drivers Education, Industrial Arts, eliminating subsidy to Food Service Program and one Elementary Teacher Aid were listed.
Plainview Senior Class will be having a Trash Haul.
Eagle Vision, was granted a nonexclusive franchise to use & occupy the streets, alleys, & other public places of the Town of Eads, for the purpose of constructing maintaining & operating a community antenna system within said town for period of 15 years and providing compensation to the town.
40 Years Ago
March 31, 1978
Some 300 American Indians representing about 70 tribes will apparently walk the length of Kiowa County on their way to Washington D.C. to protest proposed legislation which Indian leaders say will devastate Indian human rights
Eads RE-1 board of education voted to offer contract for the 1978-79 school year to all but three o the current teaching staff.
Eads High School seniors returned from a five-day sneak trip to Missouri where they enjoyed educational sights, two country jubilees and a variety of recreational pursuits.
50 Years Ago
March 29, 1968
B.W. Fischer uncovered an old-time rural mail box south of Eads. Fischer believes the box to have been around some 60 years. The name Whitmore & Hull was on the box and was learned these families left the area some 60 years ago.
Joe Brenton, Eads senior, was among several students in Colorado participating in the annual Colorado bridge building contest held in Denver. to received awards from Southern Chapter of the Professional Engineers of Colorado.
An electric fence shorted and resulting sparks ignited grass. The blazed burned a hay stack and spread to adjoining pasture before being contained
75 Years Ago
March 26, 1943
A basketball tournament of strictly county players was enjoyed in the high school gymnasium, when teams from Towner, Haswell, Brandon, Sheridan Lake and Eads tangled in a series of basketball games.
100 Years Ago
March 29, 1918
The scaffolding on the new building of the First National Bank became overloaded with bricks and fell. Three men on it narrowly escape serious injury.