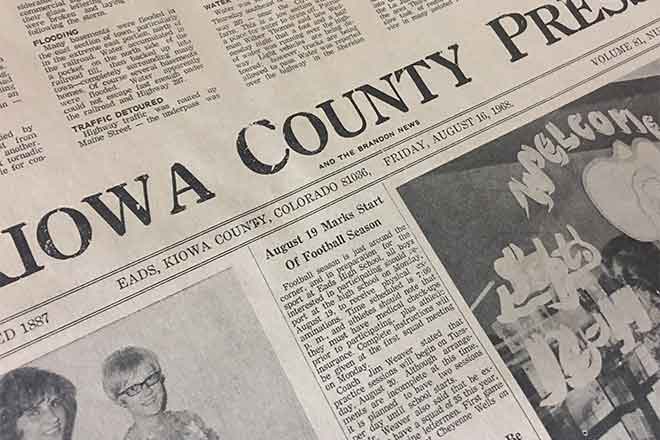 Published
Saturday, May 12, 2018
15 Years Ago
May 9, 2003
Kiowa County Sheriff Forrest Frazee informed local business leaders that a serious drug problem, as well as underage drinking, is facing the community.
Town's auditor, Gary Woodward, stated the town would be subject to new financial reporting requirements for fiscal year 2004.
East End Events-Kami Stum: Following the Plainview Jr/Sr banquet and prom, we played bingo for prizes & then went to the football field to Paintball.
25 Years Ago
May 12, 1993
Residents of eastern Kiowa County woke up to the sound of tornado sirens. Weather Service radar indicated possible tornado south, southeast of Sheridan Lake. An unconfirmed tornado was sighted in the Towner area.
A Kiowa County Sheriff's Deputy attempting to serve a summons was fired on last Wednesday
About Town-Ida Lessenden: Many senior citizens had a good time at the pitch tables where they bounced from one table to another. This gives us more opportunity to visit with more folks.
40 Years Ago
May 12, 1978
The Eads town board of trustees decided to try again to resolve a nagging police problem that the town has struggled with almost during its entire term.
Members of the newly elected hospital board came together in a special called meeting to decide what to do about finding a hospital administrator.
Towner News: We received from six to eight inches of a nice slow rain making things look nice and green.
50 Years Ago
May 10, 1968
Drilling is nearing completion stages at the Fremont Petroleum-Chervron Oil Co. #1 Tallman north of Brandon.
Nela Womack, Helen Behrendt Pearl Hainer & Betty, Stella Leister and Susan enjoyed driving over the country touring Chivington, Brandon Oil Field & east to Kansas.
75 Years Ago
April 30, 1943
The Army Air Base at La Junta announced two of their flying students, Roger M. Haley and Earl P. Davidson, were killed while on a training flight near Blue Lake.
May 7, 1943
The town of Eads received a new fire alarm which the boys at the light plant have recently installed. It is operated by compressed air and will be used as black-out signal & fire alarm.
100 Years Ago
May 3, 1918
Farrell Hines has purchased the Eads meat market from Mr. Martin. Farrell will run a first-class market and is sure to receive the patronage of the public.
May 10, 1918
Col. C.H. Tracy is endeavoring to start some grass in the courthouse yard and requests the public to please keep on the walks and give the grass a chance.
The Boy Scouts are going to clean up the town. When they get through with it they expect to have enough tin cans, old shoes & scraps of all kinds to build a Maxwell and 3 Fords.