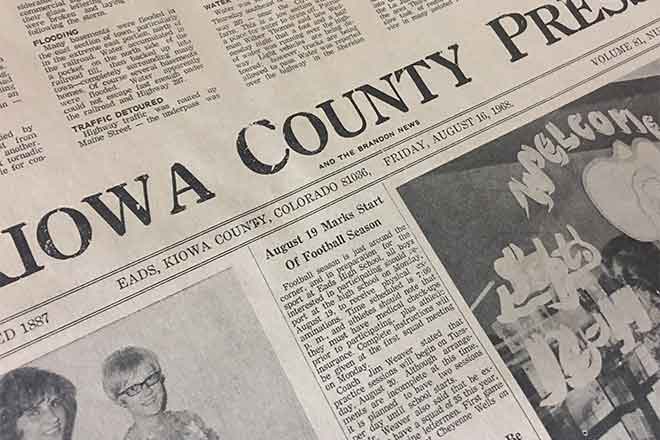 Published
Saturday, August 25, 2018
15 Years Ago
August 22, 2003
* As of August 15, 2003, there has been no further West Nile Virus activity in Kiowa County.
* USDA Updates-Rod Johnson: Last week the wide-spread Microsoft computer "worm" arrived in the Kiowa County FSA Offices as well as other USDA Offices across the nation.
25 Years Ago
August 25, 1993
* Towner News-Ann Harkness: The farm Safety Walkabout held at Scherler Farms was a big success! Around 120 people attended the farm safety program and barbecue, and many reported they found the walkabout to be very informative.
* About Town-Ida Lessenden: We are so sorry to hear of Ted Addington's tangle with a rattlesnake!
40 Years Ago
August 25, 1978
* Maxine Hockett, Eads Postmaster, announced the Eads Rural Route mail delivery will soon become a Star Route mail delivery. The difference between star route and rural is the carrier of rural route is a post office employee.
50 Years Ago
August 23, 1968
* W.C McBride is nearing the bottom on their wildcat test southeast of Eads. It is to be a Mississippian test at about 5600 feet
* Sheridan Lake News: The Lions Club picnic was held at Queen Lake, when members of the club had a hamburger fry.
* C.A. Wood and Mr. & Mrs. Donald H. Rittgers returned from a 6-day fishing trip to Klamath C. 136 salmon were netted and several sharks. The sharks are worthless, but one caught weighted 31 lbs.
75 Years Ago
August 13, 1943
* W.H. Beachy of Towner was an eye witness to a bolt of lightning that struck the radio aerial and bounced across the street with enough force to knock dust out of another building.
100 Years Ago
August 16, 1918
* Grading of the highway east of town has been finished and is now being smoothed with specially constructed drag. It is doing a good job and its continued use will soon make splendid roads.
* Kelley Jackson is nursing a broken arm received while cranking a Ford with the spark too far advanced.
* Floyd Pyles is soon to go to Siberia with the American Expeditionary force
* Extensive improvements are being made of the state road south from Eads. The south bridge on Kiowa Creek is being raised and the big hill this side is being cut down. Several miles will be graded.
* John H. Wood has purchased the Royal Cake at Cheyenne Wells and will run it in connection with the hotels here and Kit Carson.