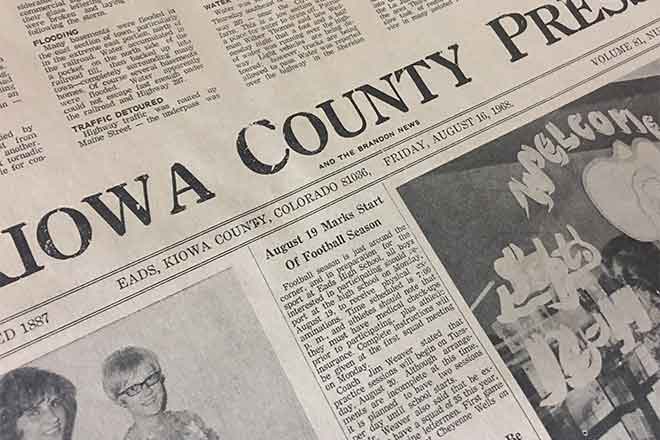 Published
Wednesday, October 24, 2018
15 Years Ago
October 24, 2003
Rodney Lane reported the construction work on the main water transmission line is nearly complete.
Did you know there are over 1,500 kinds of butterflies? The 5thgrade class learned this while raising Painted Lady Butterflies.
Kiowa County Growers Inc. CEO Norm Arends announced the company had reached a preliminary agreement with its business partner, Agro Management. KCGI licenses the right to manufacture a number of seed oil-base products from Agro, which then distributed through Great Plains LLC., which is jointly owned by the two companies.
25 Years Ago
October 27, 1993
While on patrol, Officer Pettie spotted a vehicle near Brandon that had been entered as stolen. A chase ensued at speeds up to 100 MPH. Officer Howard joined the chase at CR 63 & Hwy 96 where the subject continued to elude officers. The subject finally gave himself up just north of Sheridan Lake without further incident.
The Eads Town Council decided not to impose a curfew for people under the age of 18 in the Town of Eads.
The Eads school band was at the Air Force Academy to participate in the half-time spectacular marching show at half time.
40 Years Ago
October 27, 1978
Max Mays of Eads was injured in a freak accident. All that is known at this time Mr. Mays was run over by the rear wheel of his tractor.
50 Years Ago
October 25, 1968
The picture for the oil industry in Kiowa County should be considerably brighter following announcement that a pipeline would be constructed to the Brandon Field
Miss Debbie Johnson reigned over 1968-69 homecoming activities at Rangely High School. Miss Johnson was crowned at halftime during the football game. Debbie is the granddaughter of Mr. & Mrs. George Bickel of Haswell.
75 Years Ago
October 22, 1943
Kiowa County farmers suffered heavy damage as the result of high winds which prevailed all day.
Information released by the local Selective Service Board, Kiowa County had a quota of 14 men for the November call. Present indications are that only 4 or 5 men will be ready at that time.
100 Years Ago
October 25, 1918
Several cars of cattle were shipped from Galatea by Ed Hickman who had purchase them in that neighborhood.
Dr. W.H. Nipps and two other members of the Big Six Oil Co of Kit Carson, were here and visited the Allied Oil Well. The Big Six is preparing to begin active drilling operations between Eads & Kit Carson.