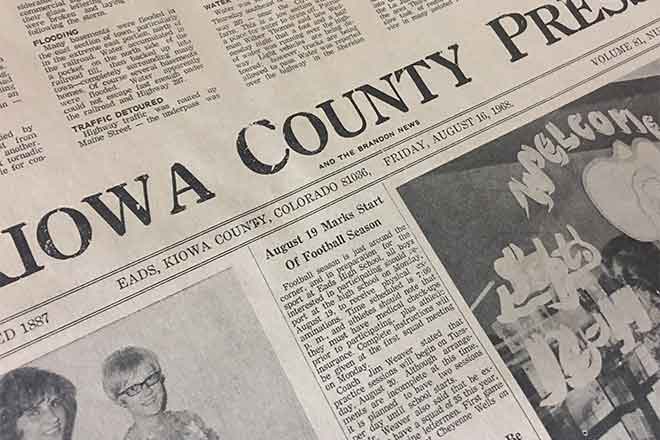 Published
Sunday, May 19, 2019
15 Years Ago
May 14, 2004
Additional charges stemming from a raid on a methamphetamine lab south of Eads are expected to be filed by the District Attorney's office this week.
Things are continuing to move forward with the establishment of the Sand Creek Massacre National Historic Site.
The Kiowa County Health Nursing Service is encouraging horse owners to prepare now to protect their animals for the West Nile Virus.
25 Years Ago
May 20, 1994
Nursing Home News-LaVerne Fischer: A barbeque was held on the patio Friday evening. Although the weather was threatening earlier, it was a delightful evening. There was a good crowd of family, friends and volunteers even though there were several other functions going on that evening.
40 Years Ago
May 18, 1979
Colorado Commissioner of Agriculture Morgan Smith has announced the establishment of a special office and hotline to assist famers and ranchers obtaining gasoline and diesel fuels during the 1979 growing season.
A group of Eads ladies journeyed to Towner for an afternoon of bridge at the home of Doris Anderson.
Deputy Gerlock pursued the suspects and managed to stop them about one mile north of the CIG plant. Gerlock returned the two suspects to the cafe where the owner said he would not press charges if the couple paid their bill. The bill was paid and Gerlock release the suspects
50 Years Ago
May 16, 1969
Mrs. Dunlap retires after teaching for 41 years. Mrs. Raymond (Clara) Dunlap will have taught 41 years at the close of this school term, more than 20 in the Eads school system.
Robert C. Miller Agency has "adopted" 52 babies! Miller told the Press he has secured photographs of 52 babies form an advertising agency to be used in a clever newspaper advertising campaign
100 Years Ago
May 16, 1919
At the school election District #1 one vote to unite with district #5 by vote 98 to 82. It is now necessary to call a meeting for the purpose of completing the union. If this union is ratified, a new Board will be chosen to represent the united districts.