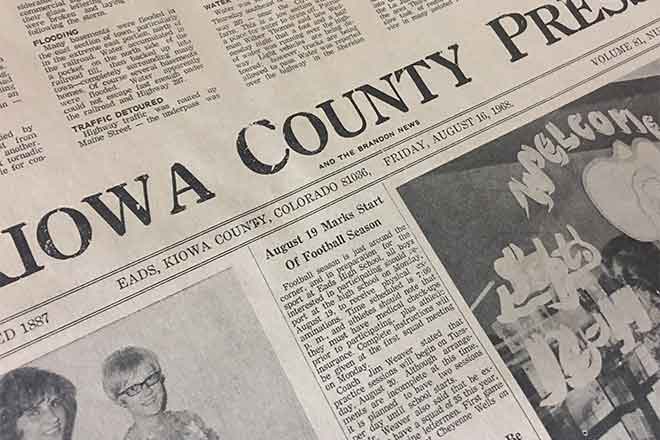 Published
Friday, May 24, 2019
15 Years Ago
May 21, 2004
Wednesday at the Weisbrod Hospital and Nursing Home, most of the residents were on the balcony with staff and lots of visitors for joyous balloon lift with the 2nd and 3rdgraders
After nearly three years in the planning and effort the Little Sprouts Child Care Center is now open for business
25 Years Ago
May 27, 1994
Towner Tales-Ann Harkness: Wind, wind and more wind! That's about all you can say about last week. For seven days the wind blew at a pretty steady rate. It blew throughout the night and during the day with only an occasional short break.
40 Years Ago
May 27, 1979
The Eads Volunteer Fire Dept. responded to a call to Sheridan's Cafe. The responding firemen found a ballast in one of the overhead florescent light fixtures had burned out, causing a large amount of smoke.
50 Years Ago
May 23, 1969
Johnny A. Stavely, son of Mr. & Mrs. John A. Stavely of Haswell, is one of more than 600 cadets in this year U.S. Air Force Academy graduating class.
Sheridan Lake News: The Dusty Bowlers, a women's bowling team at Eads, finished with 13 games in the lead.
Something To Think About: These counties must be trying to keep up with the Joneses - Cheyenne County has their own Grand Jury now.