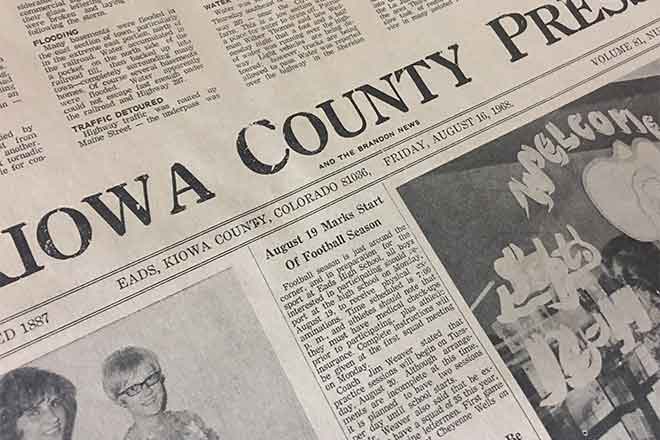 Published
Friday, August 9, 2019
15 Years Ago
August 6, 2004
Delton and Marlynn Eikenberg of Haswell were presented an award as the July winner of the Haswell Beautiful Yard of the Month Contest
25 Years Ago
August 12, 1994
Wild Horse Roundup-Curtis Schrimp: The John (Roland) and Ruth Simmes home in Security was the scene for the Wild Horse picnic that is held there every two years. Between 80 and 100 were present from California to Norway.
About Town-Ida Lessenden: A lot of people have been moving into homes about town lately and will continue for a while. We hope they all get settled in soon.
40 Years Ago
August 10, 1979
County Commissioners, Roy Robertson and Merle Shalberg officially turn over the newly purchased Kiowa County Ambulance to Mrs. Claudette Williams, Kiowa County Emergency Medical Technician Coordinator and Sheriff Floyd Griswould.
Mary Marble of Chivington is the author of the lyrics of the recently released song "After You Lit Up My Life."
Congressman Ray Kogovsek announced the Farmers Home Administration has approved a $55,200 loan and $59,000 grant to the town of Brandon to upgrade their water system.
Sheridan Lake Ripples-Mrs. Oren White: After a drawn-out harvest due to frequent showers, the Leander Weber's and Hobart Hallock's among others are glad the season is over. Their wheat harvest lasted about a month.
50 Years Ago
August 8, 1969
A regular old-time cloud burst dumped large hail and estimated 7 inches of rain on Rush Creek northwest of Eads.
Sheridan Lake Lions Club members are getting in "shape" for their extra special Donkey Ball game.
Army Private First Class, Roger A. Evans, 20, son of Mrs. Jessie Evans, was assigned as an artilleryman with the 101stAirborne Division (Airmobile) in Vietnam July 16, 1969
Army Specialist Four, Robert D. Richards, 19, son of Mr. & Mrs. Robert Richards, was assigned to the 101stAirborne Division (Airmobile) in Vietnam July 16, 1969
75 Years Ago
August 4, 1944
Delegates from several precincts of Kiowa County met for the purpose of selecting candidates for the coming election. The same situation appears to exist here as in many other counties of the state, where present incumbents are willing to contest for offices, but other people are too busy or making too much money to become interested in the county jobs.
100 Years Ago
August 8, 1919
Hines Cash Store installed a new Sherer counter this week. This is dust proof and sanitary in every respect. All the goods contained in it are visible to the buyers and presents a handsome appearance as well as a great convenience in selling goods.
Sunday's Garage this week sold two Fords to Leland Whitelaw and W.W. Westover in Arlington. H.A. Long is now the owner of a Ford with self-starter, demountable rims and other modern accessories.