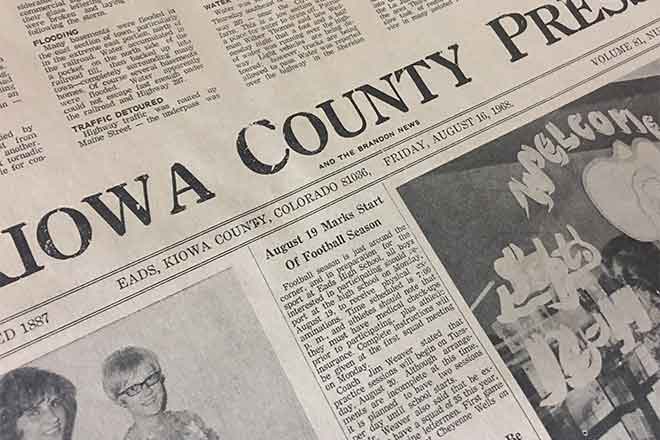 Published
Friday, October 4, 2019
15 Years Ago
October 1, 2004
Assisted Living Center Moves Forward with Receipt of $2.25 Million Rural Development Loans.
USDA Update-Rod Johnson: What pleasure to drive around the county this year. Most of the wheat field are green!
25 Years Ago
October 7, 1994
Wild Horse Roundup-Curtis Schrimp: Alice Keller took her Mom Bessie Short to the Governor's Conference on Aging. Bessie was amazed at all the people being there. She is still witty, as she remarked to one sitting next to her "I am Bessie Short, and I am short!" ( Bessie is 4' 10") Mom Short was recognize as being the oldest citizen of Colorado at 108.
Eighteen Amendments were to be on the November ballot.
40 Years Ago
October 5, 1979
Towner Tales- Marjorie Osborn: Congratulation to the Plainview Band on their third place win at the Holly fair.
Letter to the Editor: I would like to express my appreciation to the people who helped get the power restored to the airfield light and heled guide Dr. Brennan's plane to a safe landing October 2.
50 Years Ago
October 3, 1969
Reportedly, the No. 1 LaVelle, is called a dry hole with location being abandoned.
Sheridan Lake News: Misses Vickie Konecne, Leslie Womack and Fran Weber, Don & Bob Weber, their friends, Dan & Charles Crockett of Towner, had sore bodies Monday after they herded and moved cattle on horseback 10 miles for Mr. & Mrs. Leander Weber.