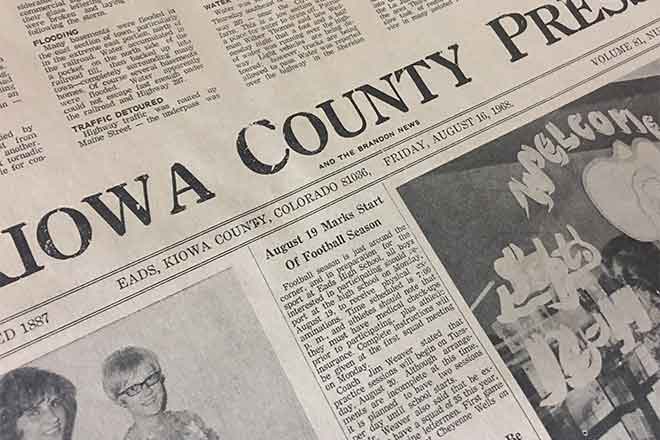 Published
Thursday, November 28, 2019
15 Years Ago
November 26, 2004
Some of the Red Hatters ladies donned their purple attire and flamboyant red hats to sing for and with the residents at Weisbrod Nursing Home.
Eads High School FBLA raised $550 for hurricane victims.
Wild Horse Roundup-Curtis Schrimp: Heard someone remark Wild Horse wasn't much of a town. Shall I bore you with what I know? When I came here as a kid there were two grocery stores, boardinghouse, pool hall, shoe repair shop, barber shop, cream station, a blacksmith, the bank building was still standing, empty two story hotel, two railroad section crew and foreman's houses and a large lumber yard (we have a picture with sign "The Biggest Little City in the World".
25 Years Ago
December 2, 1994
Seven County Nursing Service located in Bent, Prowers, Baca, Kiowa, Cheyenne, Elbert and Kit Carson, received $42,500 in federal funding from CDHE grant to expand adult health prevention screening and education services.
The numbers of Canada geese tripled, and snow geese doubled compared to the initial survey taken November 9.
40 Years Ago
November 30, 1979
Eads High School Match Wits team, Cindy Berry, Brett Legg and Cheree Philpy will appear on channel 8 in competition with the Rye High School Match Wits team.
Nursing Home News-LaVerne Fischer: Our residents donned their formals - men their suits and ties - and celebrated the coming holidays at a party.
50 Years Ago
November 28, 1969
Mrs. John Snyder of Denver, writing under the by-line of Virginia Culver, is the Religion Editor of the Denver Post. Virginia is the daughter of Mr. & Mrs. W.H. Culver of Eads, and was formerly City Editor of the Lamar Daily News before moving to Denver.
Only minor damage resulted from burning weeds on the outside of a garage at the Murrel Stephen residence. The fire spread to the roof quickly, but it was under control in quick order.
75 Years Ago
November 24, 1944
Kiowa County gained some very favorable publicity as the first county in the state to report over the top in the Sixth War Loan. The announcement made on the first day of the drive, with 102% of the assigned quota.
100 Years Ago
November 28, 1919
John Drown's little daughter swallowed a sandbur which lodged in her windpipe and nearly proved fatal. She was taken to the Lamar hospital where she was operated upon and is now recovering.
The A.H. Root farm on Rush Creek was recently sold to experienced pump irrigators from Garden City, Kansas. This is, we believe, the beginning of the development of one of Kiowa County's largest resources.