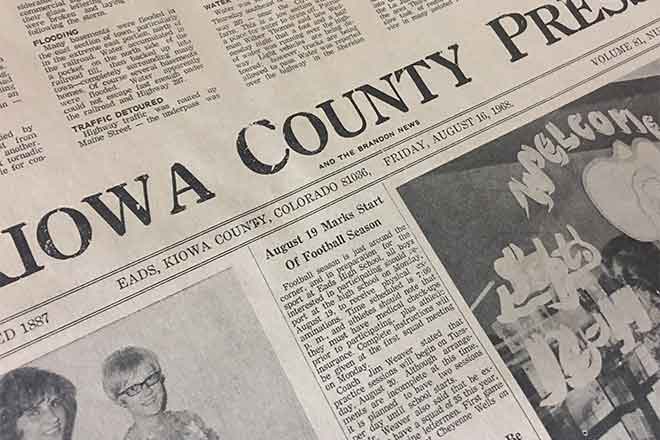 Published
Friday, July 3, 2020
15 Year Ago
July 8, 2005
Mexican wheat buyers visited the Tempel Grain Elevator in Wiley to discuss direct shipments of Colorado hard white winter wheat to Mexico
About Town - Doris & Ida Lessenden: There was a big movement of local people and folks from other parts of Colorado to the lakes for the long weekend.
25 Years Ago
July 7, 1995
The "4th of July Explosion," a replacement for the former "Eads Appreciation Day," was a huge success. The afternoon began with free swim at the pool, kids' games, hamburger and hotdog barbeque, and a street dance and fireworks at intermission.
The Cheyenne-Kiowa County book "The War Years" is being delivered about the counties. We salute the many, many men and women who served in World War II
40 Years Ago
July 4, 1980
Two committees were formed during a meeting of several persons who are interested in building a tennis court in Eads.
Sheridan Lake Ripples - Mrs. Oren White: Mr. & Mrs. Leander Weber and sons, Bob and Don, had the misfortune to lose 1,150 acres of wheat in the recent hailstorm
A 14-car train pile-up occurred approximately 1.5 miles east of Haswell. The derailment happened around midnight June 29. The cause has not been determined.
Grasshopper infestations are heavy throughout much of the eastern half of Colorado.
50 Years Ago
July 3, 1970
The most exciting news this week throughout the area is wheat harvest which, according to local farmers and elevator operators, exceeds all expectations.
75 Years Ago
June 29, 1945
A number of friends of Mr. & Mrs. Ray Sapp were pleasantly entertained at the "chuck wagon dinner" at the Sapp shanty east of Haswell. The men helped brand cattle and the ladies enjoyed visiting and watching branding.
100 Years Ago
July 2, 1920
The electric light poles on Maine Street are being painted green and, with the ornamental bracket for light, make a good appearance.
The Nee-No-She well southeast of town is making very satisfactory progress. The well is watched with very keen interest by all residents of this part of the state.