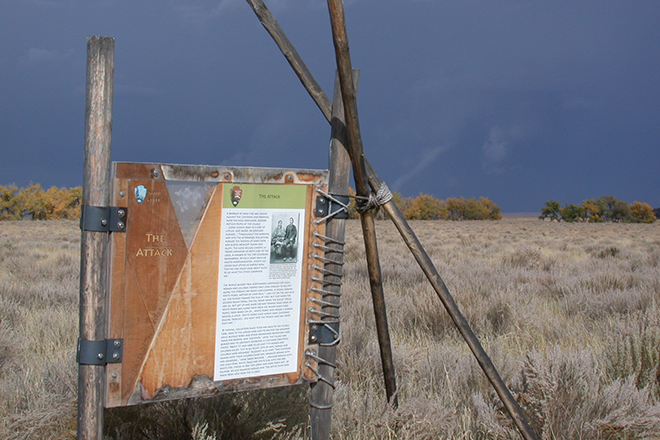 Published
Wednesday, February 20, 2019
Sand Creek Massacre National Historic Site (NHS) Acting Superintendent Janet Frederick has announced the temporary closure of the Monument Hill Overlook and areas immediately surrounding the overlook. "As part of the long-range management improvements to the park, the Monument Hill area is being rehabilitated. to assure safety and accessibility to all visitors." said Frederick.
The rehabilitation project includes defining the Monument Hill parking area by adding accessible parking spaces and walkways, the installation of a new shade structure, and defining locations on the hilltop for future interpretive exhibits. The construction, which began February 11, is expected to last through the end of April 2019.
While the construction is underway, the hilltop area will remain closed to the public for visitor safety. Other areas of the park, including the visitor contact station, visitor use area, and a designated portion of the Monument Hill Trail will remain open. Ranger-led programs will continue to be offered between 9:00 a.m. and 4:00 p.m. Thursday through Monday. The site is currently closed Tuesdays and Wednesdays. Sand Creek Massacre NHS does not charge an entry fee to visit the park.
"Our apologies for any inconvenience during the temporary closure," Frederick said, adding "The rehabilitation work at Monument Hill is funded through National Park Service Entrance Fees and is an example of federal fee dollars at work in national parks that do not charge them."