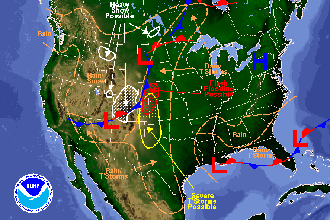 Published
Friday, April 15, 2016
After a high in the low 70s Friday, much cooler temperatures along - with much-needed moisture - will dominate the weekend in Kiowa County and across the region.
Starting Friday afternoon, severe thunderstorm development is likely. Large hail, strong winds, and heavy rain can be expected between 1:00 p.m. and midnight. The greatest threat for severe weather is between 4:00 and 10:00 p.m. Tornadoes are possible.
A slow moving upper low pressure system will move across northern New Mexico Saturday, pulling abundant moisture into Colorado and drawing cooler air from Wyoming and Montana. By Sunday, the low moves north to the Wyoming border, and chances of precipitation drop.
The start of the week will continue cooler temperatures and a chance of additional precipitation.
In Kiowa County, weekend highs will be in the upper 40s to mid 50s, with evening temperatures dropping to around freezing. Winds will will range from 15 to 30 miles per hour over the weekend, with gusts as high as 40 mph Saturday night.
Two to three inches of rain could fall in the area through Saturday, with higher amounts in thunderstorms possible.
Elsewhere in the state, particularly in the foothills and mountains, heavy, wet snow is expected in amounts between 24 and 48 inches.
Be alert to changing travel conditions, check forecasts regularly, and visit http://cotrip.org for road condition information.