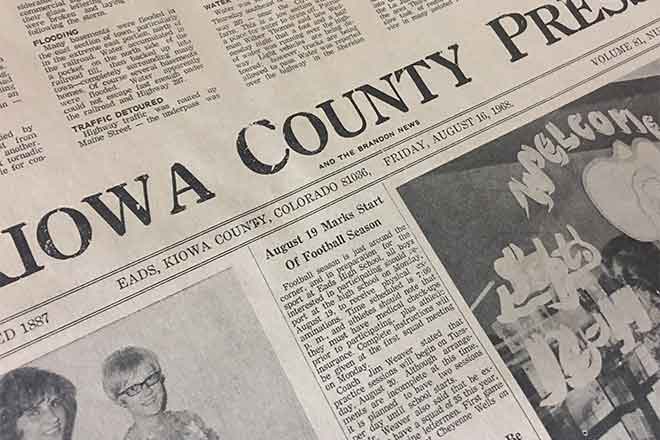 Published
Saturday, August 22, 2020
15 Year Ago
August 19, 2005
Three mosquito pools test positive for West Nile Virus. The mosquito traps were in and around the city of Lamar and the May Valley area.
West End Wavelength - Michelle Wyckoff: Mouse in the House! Mouse in the House! Unwelcome guest in the Wyckoff silverware drawer has been Mickey.
About Town - Doris & Ida Lessenden: The Lindholm Farm of Eads to be honored at the Colorado State Fair for being maintained for over 100 years!
Crews are rapidly completing framing of the east wing of the assisted living facility under construction south of Eads.
25 Years Ago
August 25, 1995
Tyrell Richardson was named Junior Boys Bull Riding World Champion at the national final last week. Treva Richardson qualified in the barrels and placed 15th, and Tayran Richardson qualified in Dally Ribbon Roping with brother Tyrell, placing 5th.
40 Years Ago
August 22, 1980
Oil has been struck on the land belonging to James "Jim" Reinert west of Towner.
With the vacating a portion of Luther Street, the Hospital District will now be able to proceed with plans toward expansion of present nursing home facilities.
Plateau Gas files for rate hike. The increase was authorized after public hearings in Burlington, Denver and Lamar.
50 Years Ago
August 21, 1970
Towner News: There will be an ice cream social at the Towner Community Hall.
A delicious roast beef dinner topped off by watermelon was enjoyed by 14 widows and three visitors at a friendly get-together at the Eads courthouse.
Donald Durrett, Eads Postmaster, wife Arla, Eads 6th grade teacher, returned home from a three-week vacation spent in parts of Europe and New York City.
Haswell: A prairie fire north of the tracks was extinguished after burning over 10 acres. It could have been much more serious due to the dry conditions of the grass.
75 Years Ago
August 10, 1945
S.G. Ashley of Sheridan lake suffered a loss when lightning struck the granary at his farm. The building, which was filled with grain, was reported splintered.
100 Years Ago
August 13, 1920
The Democrats of Kiowa County assembled at the courthouse Wednesday to designate their candidates for the primaries. The Kiowa County Republicans met Thursday and designated their candidates.