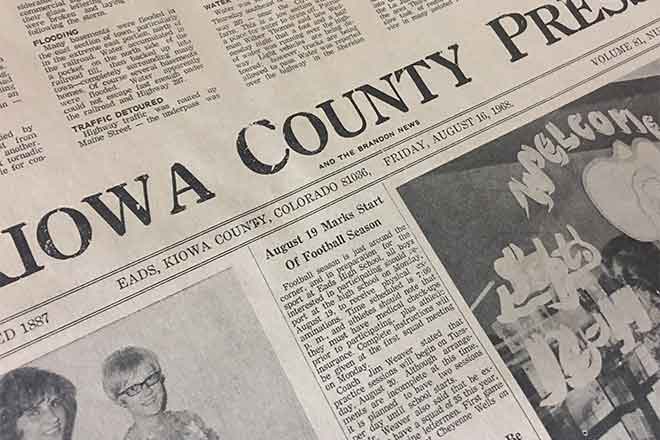 Published
Saturday, August 29, 2020
15 Year Ago
September 2, 2005
Eads Quilters, Hazel and Gloria received top honors at the Colorado State Fair. Hazel received two blue, one red, one white and one fourth placing. Gloria received three blue. One quilt received Best of Show over 65 yrs. And her Baseball Memory Quilt received Best of Show for quilt done by one person.
Wild Horse Roundup -Curtis Schrimp: We had a little surprise when we saw Big Sandy running. It wasn't at big flood stage but covered the bottom.
25 Years Ago
September 1, 1995
Plans are being made to host the Kit Carson Melodrama troupe's presentation of "The Villain Wore A Dirty Shirt, or Always Was Your Long Johns Cause It Makes a Lotta Cents" at the Plains Theater
40 Years Ago
August 29, 1980
Towner Tales - DeAnn Appelhans: The Plainview men's softball team won the honor of first place in league tournament at Cheyenne Wells.
Solar hot water energy workshop at LCC. Class members will learn how to convert a hot water system to solar from a kit.
A possible recall election for Kiowa County Sheriff, Floyd M. Griswould, has apparently failed due to lack of signatures.
50 Years Ago
August 28, 1970
Receiving top billing at the on the local stage of the Eads High School Gym will be Buster Jenkins and the High Country Travelers of Denver, for the Kiowa County Fair.
75 Years Ago
August 24, 1945
George Barton, well known Eads man, has purchased the pool hall here. Mr. Barton states the same staff of helpers will be retained to operate the establishment
100 Years Ago
August 27, 1920
A state bank is soon to be organized at Eads with a Capital of $25,000 and surplus of $2,500. G.C. Anderson of Fort Scott, Kansas, to be the cashier. It is planned to open the bank as soon as supplies and fixtures can be obtained.