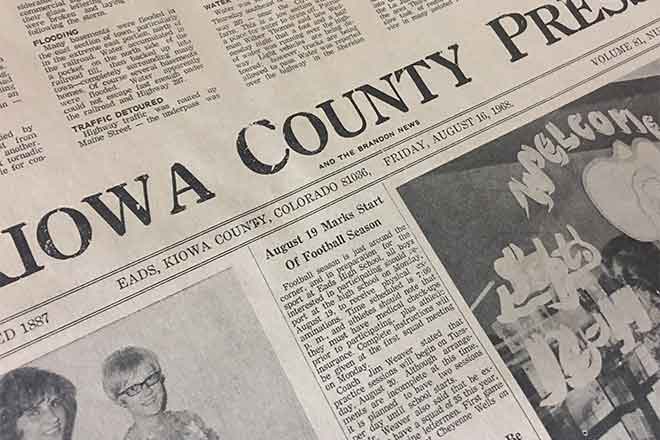 Published
Sunday, October 4, 2020
15 Year Ago
October 7, 2005
RE-1 School Board votes for switch to 6-man from 8-man football beginning 2006 season.
Wild Horse Roundup -Curtis Schrimp: When we went to Kit Carson, we saw the results of a train wreck few miles west of town. It was a mess with a lot of equipment cleaning it up.
25 Years Ago
October 6, 1995
The Union Pacific Railroad/Southern Pacific Railroad have requested permission from The Interstate Commerce Commission to abandon rail service from Towner to the junction bear Boone.
40 Years Ago
October 3, 1980
First National Bank ran an ad urging voters to vote no on Initiative 5 allowing banks to open branch facilities separate from their principal office anywhere in the state.
50 Years Ago
October 2, 1970
John P. Lucas of Haswell returned from Albuquerque, New Mexico, with winners of several breeds of chickens that were on exhibit there. 12 first, 8 seconds, 4 thirds, and 3 fourths.
75 Years Ago
September 28, 1945
Peace officers from southeast Colorado met at Eads. In the afternoon they enjoyed a pistol shoot.
100 Years Ago
October 1, 1920
The Eads electric light plant is now complete. The Fairbanks-Morse engineer is expected here Monday to test the plant.
A fire alarm box has been placed on the electric light pole in front of the First National Bank. The price for a cigar lighter or pencil sharpener and turning the crank without further cause, will be $10 or more and 30 days or so in the local bastille.