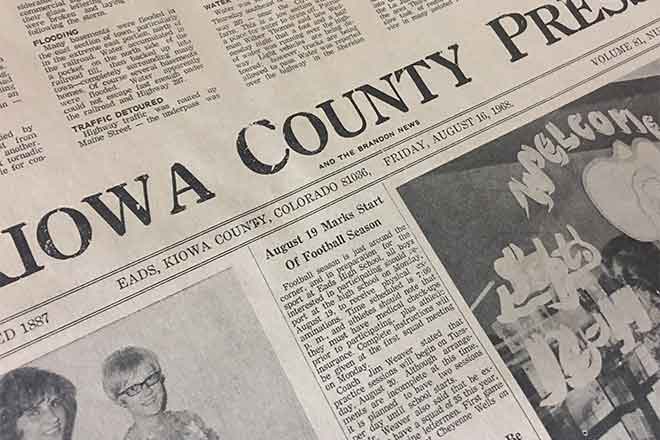 Published
Sunday, October 18, 2020
15 Year Ago
October 21, 2005
The Town of Eads are now owners of the property at the corner of 14th and Goff. The property is the former Beeline service station.
Philomene Liesen will once again conduct the Christmas Cantata this year, along with helpers Dawn James, Laura Negley, Nancy Walker and Gay Uhland.
25 Years Ago
October 20, 1995
The Kiowa County Commissioners have received a letter which indicates that filing for abandonment of the railroad could take place at the end of November or first part of December.
East End Events -complied by Plainview 6th Grade: October 12 a high of 93 and October 13 a low of 24, the coldest all fall. The weather has been good all week for harvest.
About Town- Ida Lessenden: Many people were impressed with the Eads marching band under the direction of Ty Valentine.
40 Years Ago
October 17, 1980
Gerry Oyen, Colorado State Patrolman assigned to the area, was given an "outstanding" rating on his performance evaluation for the period of November 1979 to November 1980.
Mary Miller, Kiowa County Extension Agent, presented the Meritorious Service Award to Virgil and Ida Lessenden for their years of service to the 4-H program.
Sheridan Lake Ripples- Mrs. Oren White: Miss Joyce Burk, Science at Plainview High School, thinks our prairies are quite different from her mountain home in Monte Vista.
50 Years Ago
October 16, 1970
The third annual Arlington School Reunion was held in the Arlington schoolhouse.
75 Years Ago
October 5, 1945
Kiowa County is slated for a deep oil test in the very near future. This well will be drilled by the CA Company on a tract of land north of Eads.
100 Years Ago
October 8, 1920
The electric lights were turned on for the first time and are continuing each evening until 12 o'clock.
A fire alarm turned in Wednesday evening calling out the new fire department. It was not a real fire, but the boys responded and were all there in a few minutes ready for duty with their new fire truck.