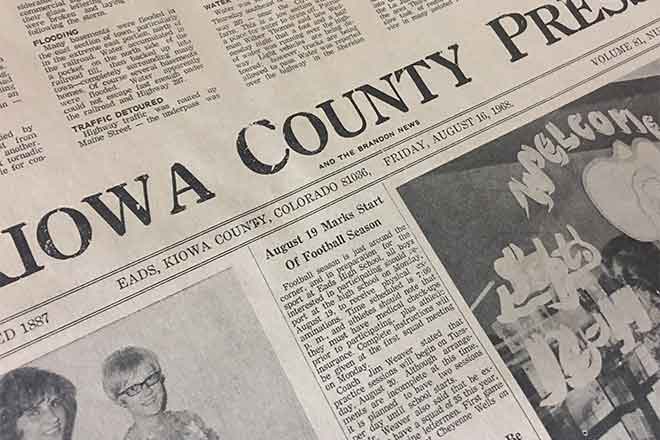 Published
Sunday, February 28, 2021
15 Year Ago
March 3, 2006
USDA Update- Rod Johnson: After several days of below zero, warmer days have followed. There is a very noticeable greening of the wheat.
About Town- Melissa Peterson & Doris Lessenden: The Eads Chamber of Commerce, with the help of volunteers, hosted a breakfast for the Snow Goose Festival.
Wild Horse Roundup- Curtis Schrimp: Maybe something in the air, Susie Paintin said the computer at the Post Office wouldn't work either.
25 Years Ago
March 1, 1996
Valley State Bank has hired Michael C. Lening, long time resident of Kiowa County, as the new bank manager at Eads.
The Mountain/Plains Communities and Shippers Coalition needs help to prevent the railroad merger/abandonment.
The KA Hall was the scene for the Annual Sweetheart Banquet.
40 Years Ago
February 27, 1981
Twenty farm and ranch members of the Rocky Mountain Farmers Union returned to Denver after a whirlwind four-day lobbying effort in Washington, D.C.
Letter to the Editor- Byron "Windy" McDaniel: People, before you say anything about the school, go visit it and see what they are doing. I hope, like me, you will be impressed about it.
From the Sheriff desk- Floyd Griswould: Several fires this past week, makes one realize just how important fire equipment really is.
50 Years Ago
February 26, 1971
A.V. Harris of Sheridan Lake has quit singing the once popular song, "I've been working of the Railroad." Harris is retiring from the Missouri Pacific Railroad after working 33.5 yrs.