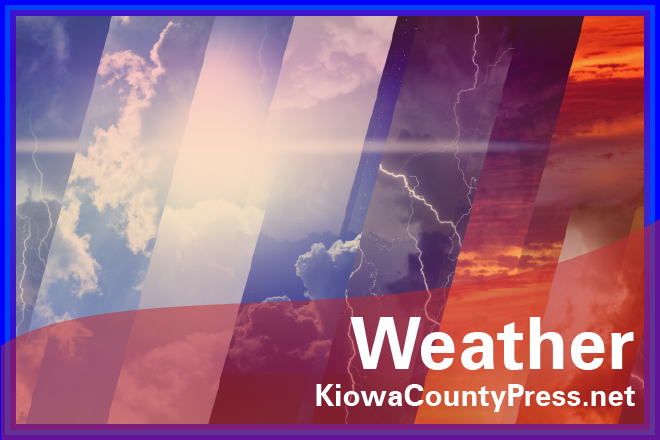 Published
Saturday, May 5, 2018
Temperatures in the 80s will be the rule across Kiowa County for the coming week.
Sunday will be mostly sunny with the high reaching the low 80s. Wind will be out of the northeast at 5-15 miles per hour, shifting to the southeast later in the day. Rain is not expected. Overnight, the low drops to the upper 40s.
Monday's temperature will be similar, with a few clouds added to the mix for a partly sunny day. South winds in the 10-15 mph range are expected. Thunderstorms will be possible during the early evening hours, producing less than one-tenth inch of rain. Higher amounts are possible where thunderstorms occur. Nighttime temperatures will return to the upper 40s.
Tuesday starts off mostly sunny, with wind out of the west at 10-15 miles per hour. The wind will shift to the north by the afternoon, with a slight possibility of showers developing by early afternoon. The potential for showers continues until early evening, then shifts to a chance of thunderstorms through the middle of the night. Overnight lows will be around 50.
Wednesday's high will be in the mid-80s under mostly sunny skies.
Weather information updated throughout the day is available at http://weather.kiowacountypress.net.
Temperature Forecast - May 6 - 9

Sunday

Monday

Tuesday

Wednesday

City

High

Low

High

Low

High

Low

High

Low

Haswell

81

49

82

54

83

49

85

52

Eads

82

49

81

51

83

48

86

51

Sheridan Lake

81

49

79

51

84

48

86

51