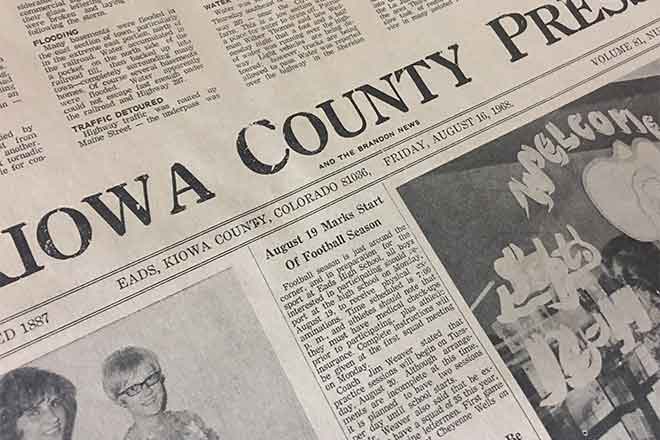 Published
Sunday, January 24, 2021
15 Year Ago
January 27, 2006
Hayden Uhland and Jacob Kraft participated in "Catch a Calf" at the National Western Stock show.
Former State Senator Jim Rizzuto was appointed president of Lamar Community College.
Wild Horse Roundup- Curtis Schrimp: I was told that around Sorrento and Kit Carson there was five inches of snow. As Lawrence Welk would say, "Wunnerful, Wunnerful."
Wild Horse Roundup- Curtis Schrimp: Thursday was the ladies club day and also my birthday. Susie Paintin had baked a cake, and someone arranged the candles in the shape of 91. They told me to blow and I about blew them off the cake with one big puff. I am pretty windy.
East End Events- Lana Weber: Mom, Lana G., Lauren, and Natalya did the Polar Bear Dip on New Year's Day (South Padre Island). We didn't see him, but Dusty Tallman was in the crowd of a few hundred crazy people.
25 Years Ago
January 26, 1996
Eads End Events- Plainview 6th Grade: The wind last Wednesday with close to 70 miles per hour was brutal, but no moisture to speak of emerged.
40 Years Ago
January 21, 1981
Nursing Home News- LaVerne Fischer: Karvel Keenagers entertained here with some more of their good toe tapping music.
Sheridan Lake Ripples- Elsie E. White: The biggest and best news to report is the good covering of snow received.
50 Years Ago
January 22, 1971
Kelly Morris, son of Mr. & Mrs. Milan Morris of Towner, and a Life Scout, will represent the Tri-State Area, when the Boy Scouts hold their world Jamboree in Japan.