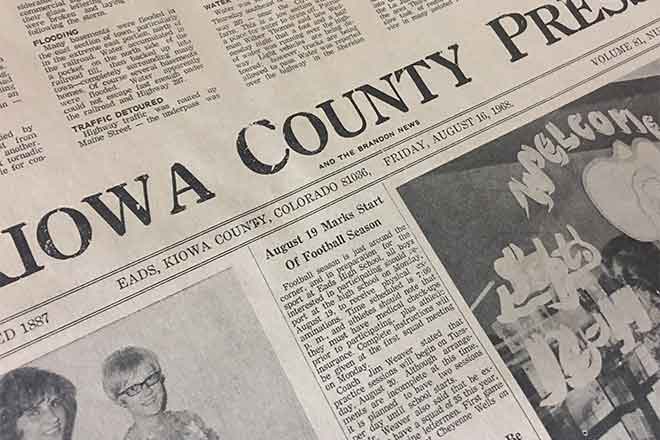 Published
Sunday, June 20, 2021
15 Year Ago
June 23, 2006
East End Events- Lana Weber: We all know how much fun playing/watching baseball in 100-degree weather is, there will be no game night this month due to harvest.
25 Years Ago
June 21, 1996
State agriculture officials say the Colorado winter wheat crop - burned by hot, dry spring weather - is far worse off than expected.
East End Events- Ann M Harkness & Co: If you were looking for an early 4th of July celebration, this was the place to be. Balls of lighting were reported on at least two evenings.
East End Events- Ann M Harkness & Co: A CBS news team were in the Brandon area reporting on the controversy surrounding cloud seeding.
40 Years Ago
June 19, 1981
Something "new" has been added to Sheridan Lake, and that something new is the M & K Grocery store opening its doors this morning.
On May 1, 1981, a very exciting thing happened at the Eads Consumer Supply Co. Inc. as the day COOP went on the computer.
50 Years Ago
June 18, 1971
Miss Valorie Briggs, daughter of Mr. & Mrs. Don Briggs of Haswell, recently competed in Miss Teenage America Pageant in Denver was awarded 3rd runner-up.