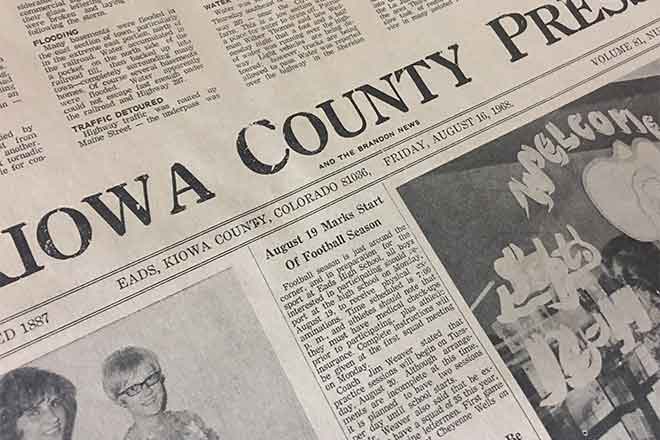 Published
Sunday, March 21, 2021
15 Year Ago
March 24, 2006
Kit Carson High students, Sara Mays and Rubi Guiterrez approached local beef producers to solicit donations of beef for the use by the Denver Rescue Mission.
As the West End Turns- Michelle Wyckoff: Heads up, if more of you don't start calling with news, I'll start making it up. Now that's entertainment.
25 Years Ago
March 22, 1996
The railroad doesn't want to talk about job losses that will result from the merger between Union Pacific Railroad and Southern Pacific contends Burl Scherler. Not only railroad workers but grain elevators and other shippers who depend on the transportation.
40 Years Ago
March 20, 1981
Funds and pledges were totaled at the tennis court meeting nd fell short of the estimated cost of two courts. However, the group determined to start work on one court.
50 Years Ago
March 19, 1971
In recent months, Eastern Slope Rural Telephone Association completed installation of new automatic equipment in their Eads exchange building. However much of this equipment will not be operational or at peak efficiency until new lines and cables are installed throughout the town of Eads.