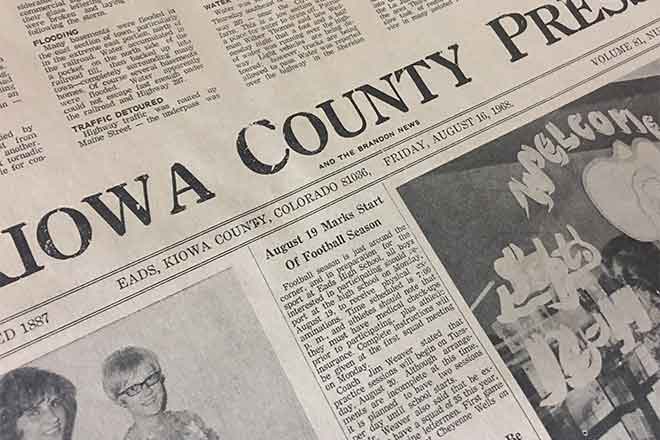 Published
Sunday, May 8, 2022
15 Years Ago
May 4, 2007
Wild Horse Roundup- Curtis Schrimp: Wild Horse made the headlines, but it took a tornado to do it. I didn't know about the tornado until it passed.
Burlington Chamber of Commerce, in conjunction with Blue River Promotions, held a benefit to aid in the rebuilding of the Holly, Colorado, and Bird City, Kansas, communities.
25 Years Ago
May 2, 1997
Worker survives a 60-foot fall inside a smoky grain bin at Sheridan Lake. The rescue crew was able to pull Tom Nutt from the bin. He was transported to Weisbrod Hospital and later was transferred to Memorial Hospital in Colorado Springs
40 Years Ago
April 30, 1982
Advance travel arrangements can now be made in Kiowa County through Mrs. Joyce Johnston of Arlington.
From The Sheriff Desk- Floyd Griswould: Two young boys entered Kelly Hardware through an unlocked back door and stole a variety of guns and pistol shells. The stolen merchandise was found by other juveniles and reported to us.
50 Years Ago
May 5, 1972
Mike Franklin will present a memorial show in Hugo at the new High School auditorium.
The Cheyenne County Sheriff's office reported 14 head of cattle, owned by Bud Mockelman, were killed by lightning. The cattle were close to an electric fence.
Rich Huddleston, son of Mr. & Mrs. Max Huddleston, was recently selected as "Soldier of the Week" in Vietnam.