Image
About Town – November 30, 2020
"Trust in the Lord with all your heart….." Proverbs 3:5
Thanksgiving has passed with many happy memories among family and friends of mine in this corner of our state. How good it was to have surprise visits from some of my nieces and nephews and friends. Then Friday afternoon, I saw a young woman walking with a cart near the golf course. After I left Kaidan and Kodie at Dwight's house, I stopped and asked her if she needed a ride. Come to find out, she was walking across America from Seattle, Washington, so I invited her to stay with me a few days. The poor lady has been freezing when tenting. I would be frightened by the coyotes, but she isn't. She mostly only walks on country roads. Her parents brought her from China to Canada, but she grew up in Seattle. She is so brave; I am glad I could offer her a warm bed. I often think that we American's are so spoiled because we are so blessed. After meeting Ying, I am thinking how blessed we are to live in this time in America compared to our former pioneer relatives.
This Wednesday, December 2, begins Advent, the four weeks before Jesus' birth. It is also a time of thinking about making or buying Christmas gifts. I have been filling 25 or more red Santa socks for my precious younger nieces and nephews. I really have missed going to the three annual Bazaars that I usually attend to buy gifts, but they were canceled because of Covid-19. However, we are blessed in Eads to have nice small businesses to buy pretty gifts. I really like to shop in Cindy McLoud's Treasure Shop. She has such darling handmade toys, vintage tools, dishes, and the best pumpkin breads and muffins and more.
Already, many families are decorating their homes with twinkling lights. It is great to drive around town after dark or on the way home from the movies. Last week we saw some faith-based movies and this week we have seen comedy shows.
Next week, I will report on the December 2 Fireman's Chili Supper and the December 3 senior citizen's brunch at 10:00 a.m. in the center. Cardon and Joyce Berry set up a pretty green tree in the window of the new senior center. The tree was a gift to the United Methodist Church from Pastor Nancy Peacock. The Social Services ladies, Kimberley, Audrey, Erika, and Jaylin, are eager to have people select one or more "angels" off the Giving Trees in the bank, Post Office or Hometown Gas and Grill so they can wrap gifts for county youth in their programs. If you are a person who has extra gift wrapping paper, they would welcome yours at their office.
Phil Pollreis' aunt, Beatrice Harwig of Kit Carson, was 100 years old last month. She and her husband, Paul, lived near Highway 40 and 287 where they raised their five children. 
We extend our sincere sympathy to the families of Richard (Dick) Scott who died last week. Dick's wife, Sharon, and sons were with him in the Tribune, Kansas, hospital when he passed. We are so sad for them and also for we citizens, because he was the Chair of our Board of County Commissioners. We pray that the person chosen for his replacement will have discernment and wisdom as they learn to work on the team with Donald Oswald and Butch Robertson.
Since the Kiowa County Courthouse is on lock-down, people need to call ahead for appointments. The library ladies, Kemma Alfano and Valorie Briggs, have made kindly plans to serve the people. Definitely call for an appointment, but you can get curb side service, use the computer by appointment, and or select a craft packet or kit that families can pick up, or may be delivered by mailed. They are resourceful women.
Two men at Weisbrod Nursing Home are having birthdays next week, so Tanya Lane and Linda Hopkins are going to be having fun parties for them. My country neighbor, Harvey, is going to be 103 years old. Isn't that amazing? And he is such a sweet man. The other man is Marvin, and we do wish him a happy birthday also.
Dr. Sean Oquist's grandmother, Ethel (Holter) Oquist, was buried last month in the Eads Pioneer cemetery. Ethel's husband was Dean Oquist, who was admired around Eads for his outstanding baseball playing skills 
The Smith family reports that Tracey is out of ICU and may get to come home, sometime – soon, we hope.
Many people are eager for December 12 to come so they can see Santa come to town on the railroad, hear the music, shop in the stores and shop at the vendor places. Remember, there will be free movies, a light parade, food and other fun games.
Image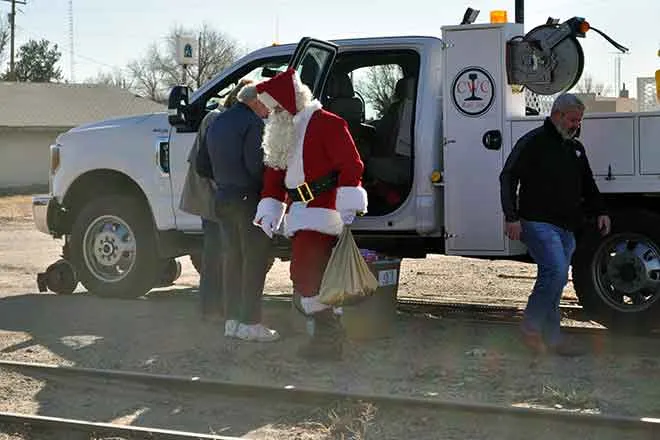 Thank you to the town workers, Van Brown, Paul Kelley, Jesse Dienes, and Trenton Rittgers, who put up most of the seasonal hand painted wooden figures in the roadside park. Travelers and locals enjoy seeing them, as well as the ones that Roland Sorensen displays in the horseshoe park on Maine Street.
Image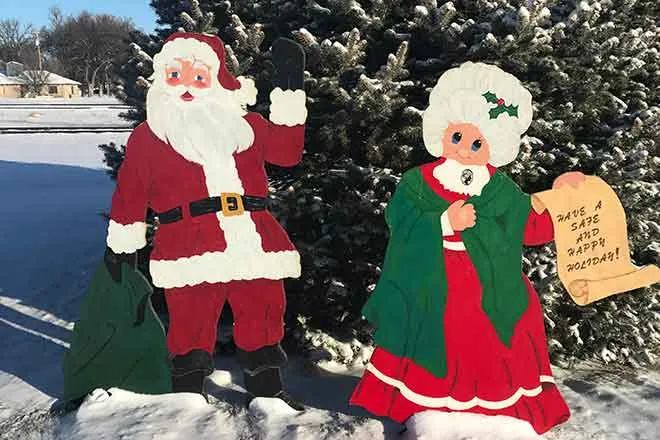 Do plan for a pleasant giving holiday. Shalom.