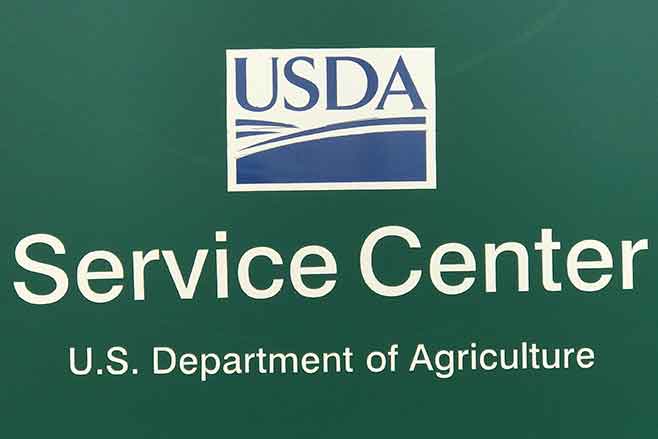 Published
Monday, January 16, 2023
IMPORTANT DATES TO REMEMBER
EMERGENCY GRAZING AVAILABLE ON CERTAIN CRP CONTRACTS
2022 LIVESTOCK FORAGE PROGRAM - Applications are being accepted. Deadline to submit signed application, January 30, 2023.
2023 ARCPLC Election and Enrollment - Deadline March 15, 2023
Disclaimer: Information in this UPDATE is pertinent to Kiowa County FSA only. Producers reading this and that do not have FSA interest in Kiowa County are advised to contact their local FSA Office.
THE USDA SERVICE CENTER HAS A DROP BOX AVAILABLE ON THE EAST SIDE OF THE BUILDING.
US DROUGHT MONITOR
The D3 extreme drought intensity has moved in the far eastern edge of Kiowa County. There is just a tiny spot of D4 exceptional intensity in Baca County.
2020 CFAP Top-up payments issued
FSA is issuing an additional CFAP 2 payment to underserved farmers and ranchers under the
same authority as the producers' previous CFAP 2 payments using CCC funds. The additional CFAP 2 payment will be equal to 15 percent of the producer's previous CFAP 2 payments, subject to CFAP 2 payment limitation provisions.
Underserved farmers and ranchers will be determined based on the 2020 program certification on CCC-860. CCC-860 must be on file with FSA and the determination recorded to receive the additional payment. Producers who have not previously certified to their status for the 2020 program year may submit CCC-860 to be eligible for the additional payment. The deadline to submit CCC-860 is February 10, 2023.
Underserved producers include individuals and entities that certify one of the following statuses.
Beginning farmer or rancher -A beginning farmer is someone who has materially and substantially participated in the operation of any farm or ranch for 10 years or less. For statistical purposes, ERS defines a beginning farm as one on which all operators are beginning farmers. Some USDA programs--such as beginning farm operator education programs--are available to beginning farmers even if there are more experienced operators who also work on the farm. Other USDA programs only provide benefits or services to beginning farmers if all farm enterprise operators are beginning farmers.
Socially Disadvantaged - The USDA defines socially disadvantaged farmers and ranchers (SDFRs) as those belonging to groups that have been subject to racial or ethnic prejudice. SDFRs include farmers who are Black or African American, American Indian, or Alaska Native, Hispanic, or Latino, and Asian or Pacific Islander. For some but not all USDA programs, the SDFR category also includes women.
Veterans - To qualify for veteran farmer or rancher status you must be a military veteran and:
You must be an individual. Business entities may receive benefits if all of the substantial beneficial interest holders, who hold 10 percent or more of the business entity qualify individually as veteran farmers or ranchers. A spouse's veteran status does not impact whether a business entity (comprised only of the veteran and their spouse) is considered a farmer or rancher. For example, a veteran moves home to take over the family farm and incorporates with his/her spouse. Their corporation would qualify as a veteran farmer or rancher for up to 5 crop years.
However, if a veteran moves home and forms a corporation with a parent, who has had an insurable interest in crops or livestock for more than 5 crop years, at 10 percent or greater, the corporation cannot receive veteran farmer and rancher benefits. Although the veteran qualifies as a veteran farmer or rancher, the parent does not so the corporation cannot receive benefits; and
You must not have actively operated and managed a farm or ranch anywhere, for more than 5 crop years: or
You must have first obtained veteran status in the past 5 years.
Limited Resource
Limited-resource farm households are those with two consecutive years of low farm sales and low household income, defined by USDA as direct or indirect gross farm sales of not more than $180,300 (FY2020) and household income below the national poverty line for a family of four.
Limited resource farmer or rancher status can be determined by using a web site available through the Limited Resource Farmer and Rancher Online Self-Determination Tool through Natural Resources Conservation Service at https://lrftool.sc.egov.usda.gov/.
Producers should contact their local FSA Office to complete a CCC-860 form before February 23, 2023.
LIVESTOCK FORAGE PROGRAM
Producers who have not applied for the 2022 Livestock Forage Program or LFP, have until January 30, 2023, to submit a signed CCC-851 application. There are two triggers eligible producers or entities must meet to be eligible for LFP, livestock and grazing land. Payments are computed on the lessor value of the two triggers x the drought intensity x 60%. Sequestration reduction is also applied to the payment. The majority, if not all Colorado counties qualified for 2022 LFP.
Keeping Livestock Inventory Records
Livestock inventory records are necessary in the event of a natural disaster, so remember to keep them updated.
When disasters strike, the USDA Farm Service Agency (FSA) can help you if you've suffered excessive livestock death losses and grazing or feed losses due to eligible natural disasters.
To participate in livestock disaster assistance programs, you'll be required to provide verifiable documentation of death losses resulting from an eligible adverse weather event and must submit a notice of loss to your local FSA office within 30 calendar days of when the loss of livestock is apparent. For grazing or feed losses, you must submit a notice of loss to your local FSA office within 30 calendar days of when the loss is apparent and should maintain documentation and receipts.
You should record all pertinent information regarding livestock inventory records including:
Documentation of the number, kind, type, and weight range of livestock
Beginning inventory supported by birth recordings or purchase receipts.
For more information on documentation requirements, contact your County USDA Service Center or visit fsa.usda.gov.
KIOWA COUNTY FARM SERVICE AGENCY COUNTY COMMITTEE
Sean Harkness - LAA 1 - East area - Committee Chairperson
Destiny Haase - LAA 2 - Central area - Committee Vice-Chairperson
Michael Zimmerman - LAA 3 - West area - Committee Regular Member
USDA SERVICE CENTER CONTACT INFORMATION
409 E Lowell Ave.
PO Box 188 - Eads, CO 81036
Telephone 719-438-5851 FSA (Ext 2), NRCS (Ext 3). FSA Fax number: fax2mail 844-332-7501
FSA - Farm Service Agency
NRCS - Natural Resource Conservation Service
KIOWA COUNTY FARM LOAN CONTACT INFO - CALL FOR AN APPOINTMENT
Telephone 719-336-3437 (ext2)
SERVICE CENTER OFFICE HOURS:
Monday through Friday - 8:00 a.m. to 4:30 p.m.
RECEIVE USDA INFORMATION
Visit website www.Farmers.gov for up-to-date information for FSA/NRCS programs.
Receive text messages - Text COKiowa to FSANow (372-669) to subscribe.
Not currently available in Colorado.
Subscribe to GovDelivery emails: Visit www.fsa.usda.gov/subscribe or contact your local FSA Office.
For information on programs visit our website located at www.fsa.usda.gov or like us on Facebook or follow us on Twitter. USDA is an equal opportunity employer.