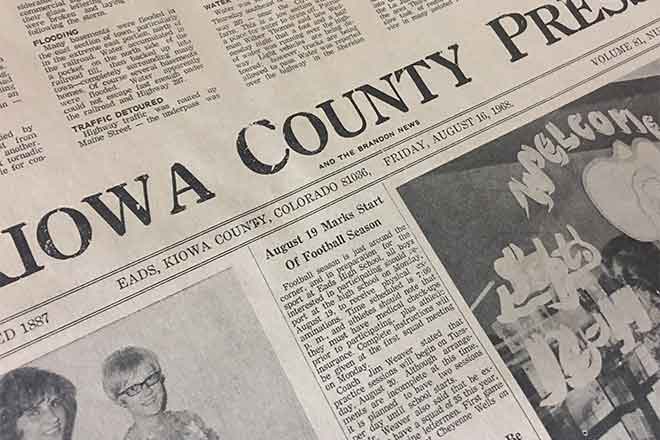 Published
Sunday, September 25, 2022
15 Years Ago
September 21, 2007
Wild Horse Roundup- Curtis Schrimp: The turkeys are trying to take over Wild Horse. I went to the door, and across the road in front of the old cafe were seven of them.
East End Events- Sharon Scott: The old saying "You can't teach an old dog new tricks" I think may be true. Dick and his faithful dog, Buddy, are taking dog training lessons, and I don't see any improvements in Buddy - or Dick for that matter.
25 Years Ago
September 19, 1997
The Kiowa County Historical Society was able to raise between $500 and $600 for the Kiowa County Museum through the "Brand the Barn" fund raiser during the fair breakfast.
While CK&P has not yet won the right to purchase the line, Commissioner Berry sees the company as the best hope for maintaining an active rail line in the county.
40 Years Ago
September 17, 1982
The Taiwan wheat industry team hosted by the Colorado Wheat Administrative Committee will tour Kiowa, Cheyenne and Prowers counties.
From the Sheriff's Desk- Floyd Griswould: The weather Friday of the fair was rather warm, and we had three cases of heat exhaustion. The three are recovering nicely.
50 Years Ago
September 22, 1972
Loren Lee Patterson from Kiowa County was the winner at the State of Colorado Sheriff's Posse Gymkhana held in Lamar.