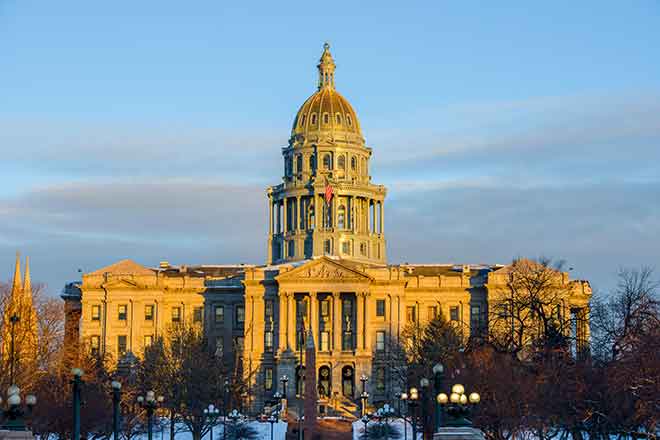 Published
Monday, December 19, 2022
(Colorado News Connection) With the new General Assembly session just around the corner, AARP Colorado is stepping up recruitment efforts for its legislative advocacy team.
Allison Hiltz, state advocacy director for AARP Colorado, is hoping new technologies and rules established during the pandemic will make it much easier for older Coloradans who do not live in high-population centers along the Front Range to make their voices heard.
"We have this incredible opportunity now with virtual testimony at the Capitol to start bringing in voices that haven't traditionally had access to the process by going down to the Capitol and testifying in person," Hiltz pointed out.
Hiltz hopes to expand the team in numbers, knowledge and geographical and racial representation. The session kicks off Jan. 9 and runs through May, and the group meets once a week, also virtually. To learn more about the work and to sign up, call AARP Colorado's main office line: 866-554-5376, or email coaarp@aarp.org.
During the last session, AARP Colorado's advocates tracked 119 bills, testified for 17 of the measures and sent more than 900 emails to legislators. Hiltz emphasized this year's team of volunteers will take a look at all the bills introduced during the session.
"To see what bills impact older Coloradans," Hiltz explained. "We will evaluate those bills and take positions on the ones that we think are either the most impactful and beneficial, or the most harmful. We do also oppose bills."
Hiltz stressed volunteers do not need any specific background or experience with policy, and training will be provided. She added in many ways, it is a "choose your own adventure" opportunity. Volunteers get to dig in to learn about bills addressing any issue they're drawn toward, and they will be able to offer input which could help shape laws affecting real people.
"It's a great position for someone who has unending curiosity," Hiltz remarked. "Because you will consistently learn more things, and at the same time, make an impact that will improve the lives of older Coloradans."