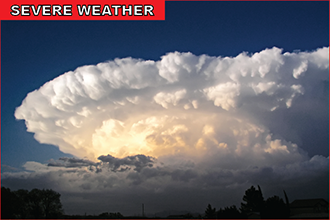 Published
Thursday, May 26, 2016
By Chris Sorensen
[Update 2] - The National Weather Service issued a Tornado Watch shortly after 12:00 p.m. that will be in effect until 7:00 p.m. for eastern Colorado counties, including Kiowa County.
[Updated] An upper closed low pressure system over Arizona moving into Colorado is expected to produce active weather over the eastern plains Thursday.
Forecast models are currently producing somewhat different possibilities for the location of the system boundary as the day progresses. While some models keep the boundary further south near the Raton Mesa, others predict it will be north of Highway 50.
If the southern potential occurs, a much larger area of the plains will be at risk for severe storms and the potential for tornadoes. A tornado watch is expected to be issued later in the day.
For Kiowa County, look for high temperatures in the upper 70s and a partly sunny day. Winds will be out of the north at 10-15 miles per hour. Up to a quarter-inch of rain is possible, however amounts could be higher in areas impacted by thunderstorms.
The north east quarter of the county is at significant risk for hail, potential up to two inches in diamerter. The same area also has a five percent chance of tornadoes, while the remainder of the county has a two percent risk. The risk percentatge shows the likelihood of a tornado within 25 miles of a given point.
The risk of severe storms will continue into the evening before transitioning to showers. An additional tenth of an inch of rain is possible. Overnight lows will be near 50.
Cooler temperatures and continued showers are expected Friday.
(Updated to include hail and tornado risk information, and tornado watch information)