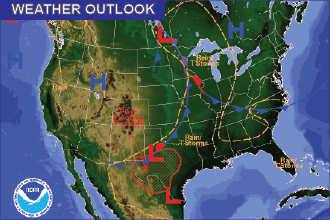 Published
Sunday, September 25, 2016
By Chris Sorensen
Cool air continues to flow across Colorado, resulting in below average temperatures and a sunny, dry autumn Sunday.
Sunday and Monday will see low to mid-70s across Kiowa County during the day, and overnight lows in the mid-30s. North winds will be in the 15-20 mile-per-hour range Sunday.
Low to mid-80s return by Tuesday, continuing into the weekend. As an upper ridge shifts east and a closed low moves across Arizona and Nevada, moisture will move into the Four Corners area. Chances for precipitation return Thursday and Friday.
Mid-week lows will be in the 40s, potentially rising to low 50s Friday night.
If you are planning a trip into the mountains to see the autumn colors, take a jacket or coat. Sunday's highs will be in the 40s and 50s - and even cooler at the highest elevations.