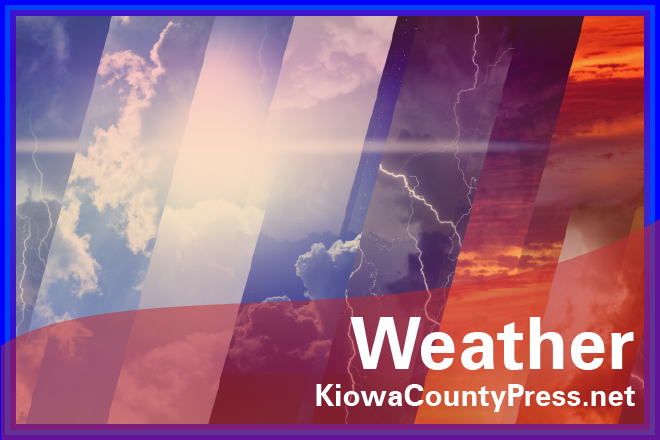 Published
Tuesday, May 28, 2019
Tuesday is expected to see temperatures about 10 degrees cooler than Monday's highs, while overnight lows will drop only slightly.
A cold front has dropped into southeast Colorado, helping to lower temperatures below seasonal norms.
Look for mostly sunny skies with high temperatures in the low 70s. Winds will generally be out of the west with gusts to 20 miles per hour in most areas during the day. Western Kiowa County, including Arlington and Haswell, could see gusts as high as 35 mph by early evening.
Overnight, temperatures will drop to the mid-40s under partly cloudy skies, with wind expected to continue into the night.
While Tuesday will be mostly dry, a few isolated to scattered afternoon thunderstorms are possible across southeast Colorado. Chances for rain increase Wednesday night through late Friday.
Currently, KiowaCountyPress.net Live Weather from downtown Eads shows E at 0 mph. The temperature is 30.
Elsewhere in Colorado, a winter storm advisory continues along the Continental Divide until midnight Tuesday, though some western areas could see advisories expiring by mid-morning. Four to 10 inches of late-season snow is expected above 9,000 feed. Ongoing late-spring snow storms are keeping seasonal mountain passes, such as Independence Pass, closed.
Kiowa County Weather Outlook for May 28, 2019

Town

High

Low

Chance of Precip

Wind Gust

Direction

Arlington

72

44

0

35

W

Haswell

70

42

0

35

WSW

Eads

71

43

0

30

WSW

Brandon

71

44

0

20

WSW

Sheridan Lake

71

43

0

20

WSW

Towner

72

45

0

20

WSW
Weather information updated throughout the day is available at http://weather.KiowaCountyPress.net.