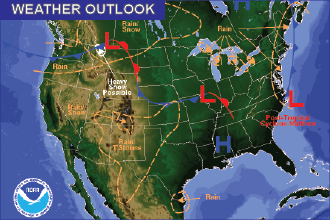 Published
Sunday, October 9, 2016
By Chris Sorensen
After a plant-killing frost last week, temperatures will vary widely over the coming week.
Sunday's high will be in the mid-70s, with a slight chance of afternoon and evening thunderstorms. Overnight temperatures will drop to the mid-40s.
Look for daytime temperatures around 80 Monday and Tuesday, with another slight chance of thunderstorms Tuesday afternoon and evening.
Wednesday will be the coolest day of the week as cooler, dry air filters in from the north and temperatures struggle to reach the low 60s, with mid-30s overnight.
Low 70s return Thursday to start a warmup for going into the weekend, with 80s expected Friday and Saturday.
The weather should be generally pleasant and cooperative for Saturday's activities, including the Kiowa County Road Rally, Haswell Bazaar, and Oktoberfest.