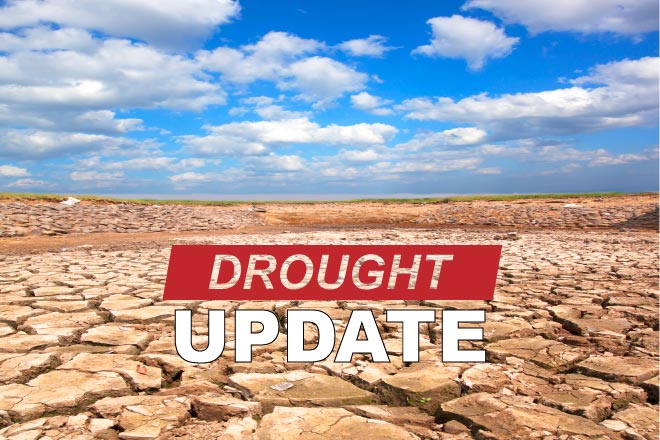 Published
Saturday, May 30, 2020
Portions of eastern Colorado saw improved conditions over the past week according to the latest update from the National Drought Mitigation Center.
Following recent rains, severe drought dropped from Kit Carson County, as well as northern portions of Lincoln County, replaced with moderate conditions.
Conditions across the remainder of the state were unchanged, including two areas of extreme drought on the southeast plains and south central to southwest Colorado. Extreme conditions reentered the state one month ago for the first time in more than a year, including an eight-week period when the state was free from all levels of drought and abnormally dry conditions.
The southern half of the state remains in moderate to severe drought outside of the areas impacted by extreme conditions.
Overall, 26 percent of Colorado is in severe drought, down from 29 percent last week. Moderate drought increased two percent to 21. Other categories were unchanged, with extreme conditions - the second worst category - at 18 percent of the state, and abnormally dry areas at 12 percent. Just under one-quarter of Colorado - 23 percent - remains drought-free.
Nearly 1.6 million people in Colorado are in drought-impacted areas.
One year ago, Colorado was free from abnormally dry conditions and all levels of drought for the first time since tracking began in 2000.
Drought classes include (ranked from least to most severe) D0 - abnormally dry, D1 - moderate, D2 - severe, D3 - extreme, and D4 - exceptional drought.
Colorado Drought by the Numbers

Week

Date

None

D0

D1

D2

D3

D4

Current

5/26/20

23

12

21

26

18

0

Last Week

5/19/20

23

12

19

29

18

0

3 Months Ago

2/25/20

30

27

39

3

0

0

Start of Calendar Year

12/31/19

32

17

31

20

0

0

Start of Water Year

10/1/19

30

42

28

0

0

0

One Year Ago

5/28/19

100

0

0

0

0

0