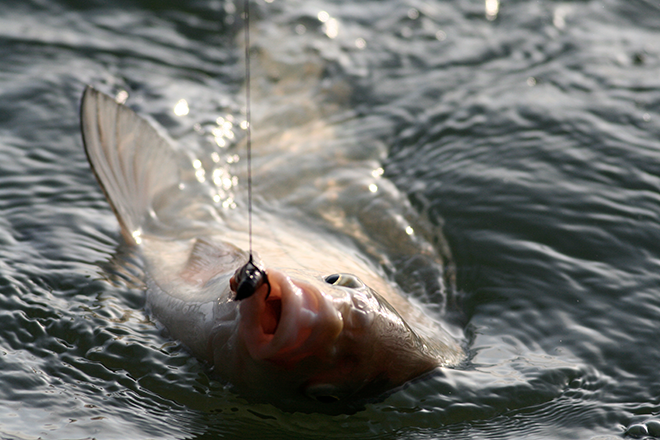 Published
Tuesday, May 24, 2016
Arkansas Headwaters
As of last Sunday, it seems we have finally reached the first days of serious snow melt from the higher elevations. For the next week or so, the river is still at fishable flows, but each day we will encounter higher flows and dirty water. These are not ideal conditions for fishing, but they do not make the river unfishable. Anglers who are pressed to fish can still find active fish holding and opportunistically feeding in the protected water against the banks and out of the main current. Though visibility is poor in the river, the amount of insects dislodged as flows increase still provides food to the trout during this dynamic season. As such, fish with flies that represent high caloric value such as stone flies or streamers. Give the fish a worthwhile meal in the water that looks the most promising. This generally means fishing large, dark nymphs and streamers along the edges, but some fish may still come up and eat attractor dry flies on the surface. Thoroughly fish soft water to guarantee that the fish get a good look at your offering. Expect to work for each fish that you catch. Do not wade into water where you cannot see the river bottom. Arkansas Headwaters Recreation Area
Blue Lake or Adobe Creek
Fishing for crappie is slow. A few saugeye are being caught by anglers fishing from boats using a variety of lures. A few catfish are being caught using chicken liver and cut shad. The high water boat ramp is now usable.
Clear Creek Reservoir
Trout fishing from shore and boat has been good at Clear Creek Reservoir. At the boat ramp parking lot area, successful shore anglers caught several trout on purple Power Bait with glitter. Pink Tasmanian Devils and gold Kastmasters are normally excellent lures to use from the shoreline. The northwest part of the reservoir remains the most productive area for fly anglers. Fly anglers experienced the most success with either olive or orange colored woolly buggers. The best trout fishing from a boat has been at the western part of the reservoir or near the inlet. Joe's Flies spinners, Pistol Pete's, and Thomas Buoyant lures were effective trout lures from a boat. Boat anglers employing bait had the best success early in the day with worms. Kokanee salmon fishing has been slow. A squid tipped with white corn is one of the best methods to land kokanee salmon. The reservoir is closed to trailer motorized watercrafts on Tuesdays and Wednesdays. Starting May 26, boating hours will be from 6 a.m. - 8 p.m.
Cottonwood Lake
Fishing has picked up at Cottonwood Lake. Normal trout gear such as Power Bait, flies, gold spinners, and worms have been productive from shore. Rainbow trout are ranging in size from 8 - 12 inches. Fishing near the outlet and the stream below the dam has been good with black and brown streamers. Anglers fishing from a boat have been having better luck. Try drifting along the south shore. No motors are allowed on the lake. Only hand propelled watercraft are allowed.
Forebay Reservoir
Fishing is starting to heat up. Anglers are catching mostly rainbow trout with a few lake trout also being caught. An assortment of baits, lures, and flies are catching fish.
Hayden Meadows Reservoir
The reservoir continues to fish well with an assortment of bait, lures, and flies.
Henry Lake
A few wipers are being caught recently. Fishing for all other species has been slow. The boat ramps are usable.
John Martin Reservoir
The reservoir is currently at 214,000 acre ft and the water temperature is nearing 60 degrees. We have had many reports of anglers catching a lot of white bass and small wiper on the reservoir. Most are smaller fish with a few reports of 16 - 18 inchers being caught all over the reservoir on a variety of lures. We still have not heard of many walleye or saugeye being caught on the main reservoir or the stilling basin. Fishing at the stilling basin and Lake Hasty is picking up, with some reports of catfish being caught on worms and chicken liver below the dam. John Martin State Park
Meredith Lake
Fishing for all species has been slow. The boat ramp at Meredith Lake is usable.
North Gateway Park
Anglers are having some good luck catching rainbow trout after the recent stocking. They are using various lures, hard baits, and Power Bait. Crappie and bass are also being caught when the water is calm using soft baits and flies.
Trinidad Lake
The surface water temperature is near 55 degrees. Shoreline anglers are still catching trout using various Power Bait and homemade dough baits. We are getting reports of smallmouth bass biting well, and the walleye fishing is starting to heat up. Boaters are still catching walleye and trout. The walleye are being caught trolling in 20 - 30 feet of water, trolling worm harnesses and using jigs with worms. Boaters should use caution as the high water has floated some logs from the shoreline. Boaters are also reminded that boats must be inspected prior to launch. Trinidad Lake State Park
Turquoise Lake
The lake is still iced over, however it is starting to open up around the shore. Most ice will melt this week and it should be fishable by the weekend.
Twin Lakes
The boat ramp at Twin Lakes is now open. Fishing from boats has been fair for rainbow trout and lake trout. Fishing from shore is starting to heat up, especially near the power plant. Anglers are reporting lake trout being caught from shore with both sucker meat and Power Bait.