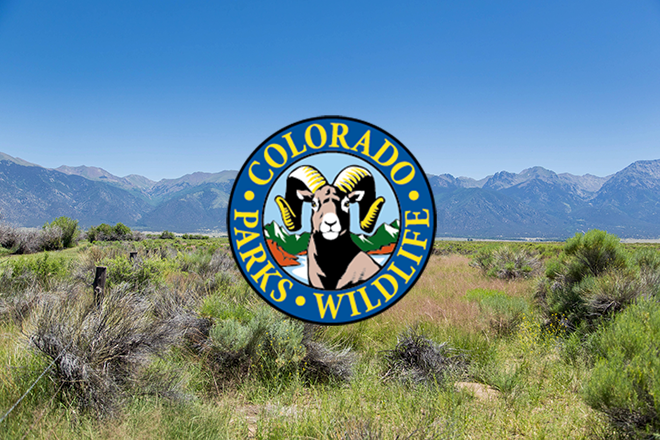 Published
Wednesday, May 16, 2018
There will be fun for the whole family at many Colorado Parks and Wildlife state parks as they celebrate the Colorado Public Lands Day on Saturday, May 19, with a variety of programs and events.
All programs and events are free with a $7 per day park pass or $70 annual pass.
Lake Pueblo State Parkis planning its "Kick Off to Summer" festivities starting at 5:30 p.m. at the Arkansas Point Campground with a variety of events leading to a Twilight Hike at 7:30 p.m.
Cheyenne Mountain State Parknear Colorado Springs will host its "Kids to Parks" event from 10 a.m.-2 p.m. at the Limekiln Trailhead. Activities will include:
Archery - Have you always wanted to shoot a bow and arrow? Here is your chance to get started! One-on-one instruction will help you learn how to shoot. All equipment is provided.
Crafts - Come by the craft table to create your own Nature Journal.
Guided Nature Walks - Take a guided one-mile hike along the Zook loop.
Skins/Skulls - Display of animal skins and skulls. See if you can match the right skin to the right skull. Creepy, Crawly, Squirmy, Slimy! Table - Learn about some of the misunderstood animals that live in our park, from snakes to spiders. You may even get a chance to get hands-on with our bullsnake, Sully.
Trivia Wheel - Test your knowledge on flora and fauna and win a prize.
CMSP Fire Truck - Meet a park ranger and hear about one of the many important jobs they have to keep the park and its visitors safe, and about fire safety. You may even get to spray the fire hose.
S'mores - Make everyone's favorite campfire treat.
The event is open to all ages and young children must be accompanied by an adult. No registration is necessary. Cheyenne Mountain State Park is located at 410 JL Ranch Heights south of Colorado Springs, off Colorado Highway 115. For more information, call 719-576-2016 or visit,http://cpw.state.co.us/placestogo/Parks/CheyenneMountain/.
Mueller State Park, south of Divide in Teller County, will host its summer kick off with a 9:15 a.m. hike starting at Elk Meadow Trailhead. The three-mile moderate hike will lead through the meadows in the east where you can see Murphy's Cut, the site where the Midland Railroad travelled during the early 1900's through what is now park land. Join Naturalists Eileen and Carrie for this three-mile moderate hike.
At 1 p.m., join Mueller's Identifying Wildlife Skulls program at the Visitor Center. Naturalist Pat will teach about skulls and kids can test their skills by trying to identify a "mystery" skull. For ages 8 & up.
At 2 p.m., Mueller offers Archery for Beginners at the Dragonfly parking area. Learn the basics and try shooting archery! Ages 8 and up are welcome. Finally, at 8 p.m. in the Amphitheater, the park will host: Birds of Mueller State Park. It's the year of the bird and Mueller is home to well over 100 species of birds. The conifer and aspen forests, grassy meadows and quiet ponds offer great habitat for our feathered friends. Learn about just a few of these amazing birds and their unique adaptations to survive. Dress warm and bring a blanket. For more information, call Mueller at 719-687-2366.
Lathrop State Park,near Walsenburg, a park interpreter is hosting an activity called "Ten Things." Families will use a map to locate 10 natural things that are found in the park, and then they will join the naturalist to talk about their finds. For information, call the park at 719-738-2376.
John Martin Reservoir State Parknear Lamar will observe the day by hosting the Bent on Birding Festival. During the afternoon hike, the park will add a "cleaner than we found it" component to the petroglyph tour in honor of Public Lands Day. Call the park at 719-829-1801.
Public Lands Day means it's time to hold a "Clean-up/Green-up" at the Arkansas Headwaters Recreation Area. The AHRA will once again be coordinating its annual Arkansas River Cleanup/Greenup scheduled from 8 a.m. to 3 p.m. on public lands from Leadville to Canon City.
Volunteers can register at 8:30 a.m. at the AHRA Visitor Center, 307 W. Sackett Ave., Salida, and at the Buena Vista downtown public parking, West Main and South Railroad Streets, Buena Vista as well as at the Loma Linda KOA Campground, U.S. Highway 50 in Cotopaxi. For advance group registrations call AHRA at 719-539-7289.
There will be food, a trash contest, prizes and more.
For more details and information or to sign up, contact AHRA at 719-539-7289. Or check out the park website: http://cpw.state.co.us/placestogo/parks/ArkansasHeadwatersRecreationArea