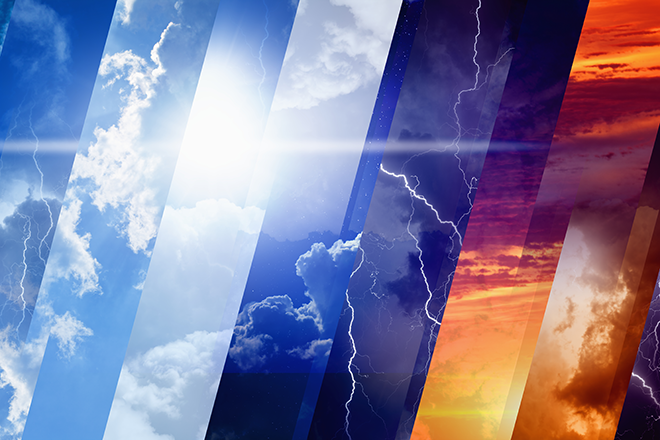 Published
Sunday, June 25, 2017
Cooler temperatures will persist Sunday for eastern Colorado, with potential for thunderstorms, while the west will continue to see much warmer temperatures.
Yuma county was receiving rain from isolated thunderstorms early Sunday morning, along with some pea-size hail. The storm system was moving quickly into Kansas.
Sunday's highs across the eastern plains will mainly be in the 70s - below average for this time of year. Isolated and scattered thunderstorms are expected to bring brief, moderate rain and wind gusts to 40 miles per hour. Thunderstorms will be more wide-spread along the mountains later in the day. Southeast Las Animas and southwest Baca counties can look for up to an inch of rain over the next two days, while areas further north, including Otero, Prowers and Kiowa counties, may see up to a quarter inch.
The west slope will continue to bake under temperatures in the upper 80s to mid-90s Sunday, with a possibility of thunderstorms for the southwest mountains, but overall, limited amounts of rain are expected.
For the coming week, temperatures in eastern Colorado move to the 80s Monday, and jump to the 90s Tuesday and Wednesday. A slight drop back to the 80s starts Thursday, continuing into the weekend. There is a potential for scattered afternoon and evening showers and thunderstorms throughout the week, particularly for the southern portion of the area.
For western Colorado, little relief is in sight over the coming days as temperatures remain mainly in the mid- to upper 90s across most of the area, with the northwest a few degrees cooler. Aside from Sunday's rain potential in the southwest mountains, the possibility for precipitation is nearly non-existent through the week.
Forecast - June 25 - 27

Sunday

Monday

Tuesday

City

High

Low

High

Low

High

Low

Eads

76

56

83

58

90

59

Springfield

75

59

84

60

91

62

Trinidad

75

55

81

59

88

57

Limon

73

51

83

55

91

55

Sterling

75

51

85

58

93

58

Fort Morgan

77

51

86

58

94

57

Craig

79

47

85

51

85

47

Grand Junction

94

62

97

66

97

62

Montrose

89

58

91

61

90

57

Cortez

88

56

89

56

88

50