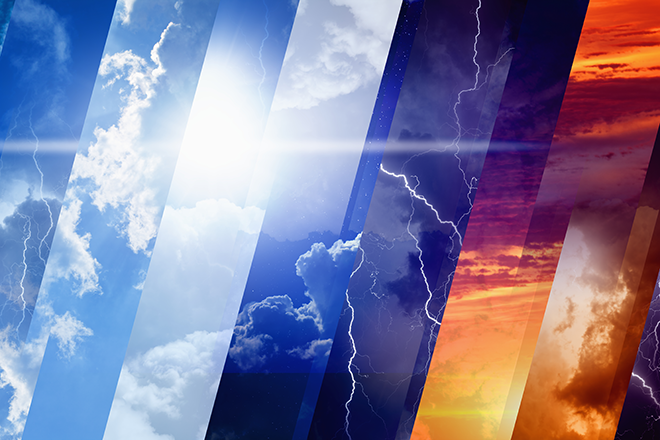 Published
Sunday, July 16, 2017
Recent afternoon showers and thunderstorms that have brought welcome rain for Colorado crops, along with areas of flooding, begin to taper off Sunday.
Eastern Colorado
Drier air will spread across the plains in the coming days. Sunday, showers and thunderstorms will be limited to mountain areas and along the Colorado-Kansas border. Slightly below-average high temperatures will be in the low 80s for most northeast counties, while the southeast will see mid- to upper 80s. Locally heavy rain, with the potential to cause flash flooding, remains a possibility Sunday afternoon.
A high-pressure system building across Colorado will result in drier air over eastern Colorado, however scattered afternoon and evening storms will remain a possibility. Storms that do develop will likely be slow-moving, with locally-heavy rain and continuing the potential for flash flooding, particularly in burn scar areas.
By Thursday, monsoonal moisture is expected to return, increasing the chances for rain.
Temperatures through the week will remain near seasonal norms, with highs in the 90s across most of the plains during the work week.
Western Colorado
The west slope will continue to see temperatures above seasonal averages as high pressure continues to impact the area. Isolated to scattered showers and thunderstorms remain a possibility into Sunday evening.
With reduced monsoon moisture flow over the next few days, the potential for showers and storms is reduced, but not eliminated, for the start of the week.
By mid-week, increasing cloud cover and thunderstorm activity is expected to drop temperatures toward seasonal averages, with highs in the upper 80s to low 90s for most areas.
Forecast - July 16-19

Sunday

Monday

Tuesday

Wednesday

City

High

Low

High

Low

High

Low

High

Low

Eads

88

60

94

63

97

63

97

63

Springfield

88

64

94

66

96

66

95

66

Trinidad

85

61

89

61

91

62

91

61

Limon

81

58

91

58

94

60

94

60

Sterling

87

61

96

62

96

63

99

63

Fort Morgan

86

60

96

62

98

63

98

63

Craig

92

54

88

54

90

55

87

54

Grand Junction

97

69

97

70

98

70

94

69

Montrose

92

59

89

59

90

60

86

59

Cortez

89

56

88

57

88

58

86

56