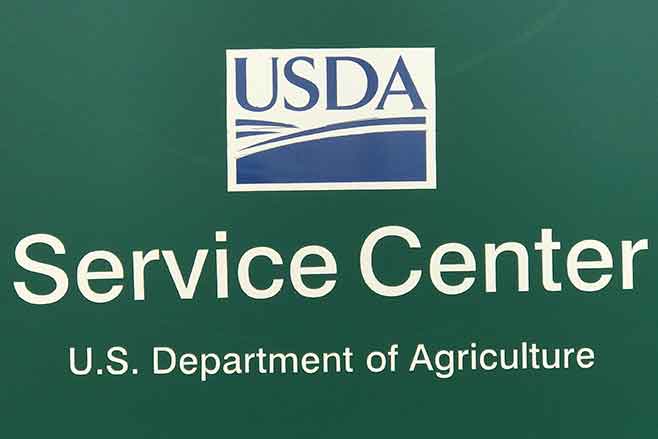 Published
Tuesday, November 3, 2020
IMPORTANT DATES TO REMEMBER:
CRP EMERGENCY GRAZING and HAYING - 30-DAY NO GRAZING HAS BEEN WAIVED FOR 2020. FSA OFFICES CAN ACCEPT NEW REQUESTS FOR HAYING AND GRAZING UNTIL DECEMBER 31, 2020
2021 ACREAGE REPORTIND DEADLINE - Monday, November 16, 2020
CFAP2 SIGNUP - DEADLINE DECEMBER 11, 2020 - Call and schedule your appointment.
2021 NAP GRASS APPLICATION DEADLINE - December 1, 2020
2021 ARCPLC signup - begins October 13 - ends March 15, 2021
LFP - Signup ends January 30, 2021
Disclaimer: Information in this UPDATE is pertinent to Kiowa County FSA only. Producers reading this and that do not have FSA interest in Kiowa County are advised to contact their local FSA Office.
COVID- 19
As the virus has now reached Kiowa County and our neighboring counties; it's important that we all do our part in stopping the spread of the virus. Here at the USDA Service Center we ask that if you MUST visit the office you abide by these rules:
#1 - Wear a face covering or ask that we assist you outside in the parking lot.
#2 - If you have documents that need to dropped off - USE THE DROP BOX and do not ring the doorbell. We assure you the drop box is secure and is checked daily.
Please remember; FSA offices have the ability to allow producers to sign many documents with an electronic signature.
Therefore, if you are only needing to sign documents; please ask FSA send those to you to sign electronically. We assure you it's an easy process. The office can also mail you any information that you are needing, and you can also return documents by mail.
ACREAGE REPORTING DEADLINE
The 2021 fall planted crops and perennial forage reporting deadline is Monday, November 16. Maps for reporting planted acres can be emailed, mailed or picked up at the office (with sufficient notification). Currently, the majority of the producers have contacted the office and have returned the maps. Reminder, the correct intended use must be reported - such as
Graze
Grain
Forage
Multi-use - graze/grain
Be certain to consult with your crop insurance agent and be certain the proper intended use is reported to FSA. After the acreage reporting deadline, intended use can only be changed for permitted revisions. Be certain you mark the maps correctly before returning them to the FSA Office.
Be certain that your acreage report with your crop insurance agent is completed before the November 16 deadline and verify that the FSA Office has your information to complete your acreage report; as FSA offices will be able to use a register after the deadline. Be certain your name is on it - or you will be required to pay late-filed reporting fees which is at a minimum $46.00 per farm.
The USDA Farm Service Agency (FSA) recently made several policy updates for acreage reporting for cover crops, revising intended use, late-filed provisions, grazing allotments as well as updated the definitions of "idle" and "fallow."
Reporting Cover Crops:
Cover crop types can be chosen from the following four categories:
Cereals and other grasses
Legumes
Brassicas and other broadleaves
Mixtures
If the cover crop is harvested for any use other than forage or grazing and is not terminated according to policy guidelines, then that crop will no longer be considered a cover crop and the acreage report must be revised to reflect the actual crop.
Permitted Revision of Intended use After Acreage Reporting Date:
New operators or owners who pick up a farm after the acreage reporting deadline has passed and the crop has already been reported on the farm, have 30 calendar days from the date when the new operator or owner acquired the lease on land, control of the land or ownership and new producer crop share interest in the previously reported crop acreage. Under this policy, appropriate documentation must be provided to the County Committee's satisfaction to determine that a legitimate operator or ownership and producer crop share interest change occurred to permit the revision.
Acreage Reports:
In order to maintain program eligibility and benefits, you must timely file acreage reports. Failure to file an acreage report by the crop acreage reporting deadline may result in ineligibility for future program benefits. FSA will not accept acreage reports provided more than a year after the acreage reporting deadline.
Definitions of Terms
FSA defines "idle" as cropland or a balance of cropland within a Common Land Unit (CLU) (field/subfield) which is not planted or considered not planted and does not meet the definition of fallow or skip row.
Fallow is considered unplanted cropland acres which are part of a crop/fallow rotation where cultivated land that is normally planted is purposely kept out of production during a regular growing season.
CFAP 2
In visiting with producers, I'm not sure FSA is not reaching the producers we need to or possibly the producers aren't understanding that the CFAP 2 program IS NOT similar and not a continuation of the original CFAP program.
The CFAP 2 program is a completely different program. There are five separate parts of the CFAP 2 application, which is the AD-3117 form.
1.Dairy Production - Total production between April 1 and August 31
2.Eggs/Broilers Production - 2019 total production of broilers, dried, frozen, liquid or shell eggs.
3.Livestock Inventory - Cattle, hogs, sheep - excluding breeding stock - highest number between April 16, and August 31, 2020.
4.Sale Commodities - For a complete list of eligible commodities including different kinds of livestock visit www.Farmers.gov/cfap2 or contact the office for a complete listing.
5.Acreage based Crops - This is based on the producer's share of crop year 2020 planted crop acreage (prevent plant ineligible), The minimum payment will be $15.00 per acre.
The deadline to complete an application for CFAP 2 is December 11. Producers will complete one application in their designated recording county FSA Office.
The information below gives producers a better idea of what is eligible for each category. If producers have questions regarding eligible producer or commodity - contact your local office.
Livestock Inventory
Breeding stock for hogs, cattle and sheep are INELIGIBLE for CFAP 2. Definition from CFAP handbook - breeding stock is defined as the following and therefore NOT ELIGIBLE:
Cattle - cows and bulls
Pigs - boars and sows
Lambs - rams and ewes
SALES COMMODITIES - CFAP 2 provides producers of eligible sales commodities on -
Aquaculture, including mollusks
Crops not identified as price trigger or flat rate - there is a long list, contact the office for more information.
Nursery and/or floriculture crops
Specifically defined miscellaneous crops
Specifically identified livestock, not including breeding stock. This includes goats and other livestock, again contact the office for more information.
INELIGIBLE commodities - all breeding stock, equine, companion or comfort animals/pets, commodities produced by contract growers, and livestock raised for hunting or game purposes are ineligible for CFAP 2.
Producers of eligible sales commodities must certify their 2019 sales for qualifying commodities. The sales must Be determined reasonable by the County Committee. Eligible sales include only sales of raw commodities grown by the producer. Any portion of the sales derived from adding value to the commodity, such as processing and packaging, and sales of products purchased for resale must not be included in the amount of sales.
Producers who began farming a category of sales commodity in 2020 and had no 2019 sales will self-certify their actual 2020 sales, at the time of application, in lieu of 2019 sales. The 2020 sales must be determined reasonable by the County Committee.
For a listing of sales commodities - visit Farmers.gov/cfap2 website. Any questions please contact the office.