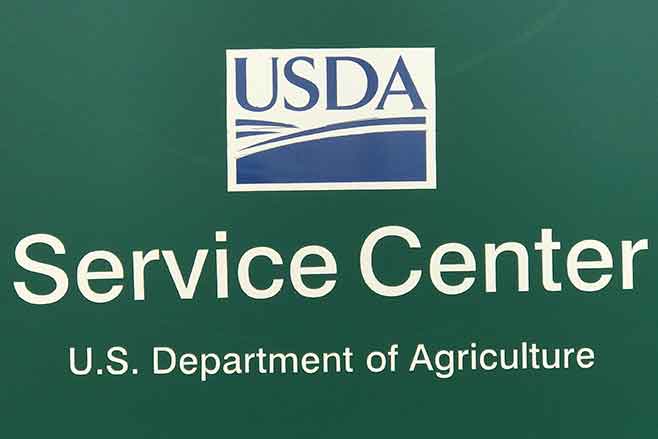 Published
Sunday, February 10, 2019
IMPORTANT DATES TO REMEMBER:
EXTENDED - FEBRUARY 28 - DEADLINE to apply for 2018 (LFP) Livestock Forage Program -
EXTENDED - FEBRUARY 14- MFP - Market Facilitation Program- COMPLETION OF Part D of CCC-910 form signature deadline.
FEBRUARY 18th-SERVICE CENTER CLOSED- President's Day
Continuous CRP Grassland Signup 201 -Offers being accepted - $5.00 per acre rental rate
Disclaimer: Information in this UPDATE is pertinent to Kiowa County FSA only. Producers reading this and that do not have FSA interest in Kiowa County are advised to contact their local FSA Office.
SERVICE CENTER CLOSED
The USDA Service Center will be closed, Monday, February 18, in observance of President's Day. The office will reopen Tuesday, February 19.
2018 FARM BILL INFORMATION
2019 and 2020 NAP Application for Coverage Fees
With the new Farm Bill Noninsured Crop Assistance Program (NAP) service fees for coverage will increase from $250 to $325 per crop; $750 to $825 per county for all crops and from $1875 to $1950 maximum per producer in all counties. The buy-up option will also be available again for crops other than grass. Service fees that were remitted with applications by December 19, 2018, will be considered fully paid for crop year 2019. County offices will continue to sell policies with the current rate and the 50/55 coverage, as the National Office is working on procedure of how to implement the increase of fees and the option for buy up coverage for the 2019 crop year.
The deadline to purchase a 2019 policy for forage sorghum, dual purposes and common millet is Friday, March 15th.
NO FARM COMBINATIONS
County Offices are not authorized at this time to perform any required or requested farm combination reconstitutions. This normally occurs when there a new Farm Bill in place to prohibit any reallocations to base acres after the combination is completed.
NO EXPIRED CRP CROP BASE RESTORATIONS
Crop acreage bases that had been reduced for enrollment into CRP and the CRP contract has expired, the base acres currently cannot be restored, due to the expiration of the 2014 Farm Bill. The 2019 ARCPLC enrollment date has not been announced, therefore those base acres will remain reduced at the tract level until guidance on ARCPLC signup and options for CRP re-enrollment for those acres are determined.
IRS 1099's
Producers who earned over $600 for calendar year 2018 through FSA should have received their 1099 for tax purposes. Producers who have questions or have not received the form can contact the FSA office to receive a copy and/or a detailed copy of dates when payments were issued if discrepancies are discovered.
Be reminded, the MFP (Market Facilitation Program) payments could have two separate deposit dates. There are several producers who received the first payment on 50% of the harvested production prior to the second payment on the other 50% of harvested production being issued, therefore the MFP payment total could be in two separate deposits. Producers will need to add the two deposits together to determine the amount reported on the 1099.
Kiowa County NRCS Office
Scott Smith, with the Cheyenne County NRCS Office is currently overseeing the Kiowa County NRCS Office. Scott is normally in Eads on Wednesday's after 10:00. Producers can call the Cheyenne County NRCS @ 719-767-5648, ext. 3 the other days of the week.
Kiowa County FSA Committee
Destiny Haase - LAA 2 - Central area - Committee Chairperson
Sean Harkness - LAA 1 - East area - Committee Vice-Chairperson
Michael Zimmerman - LAA3 - West area - Committee Regular Member
USDA SERVICE CENTER CONTACT INFORMATION
409 E Lowell Ave.
PO Box 188 - Eads, CO 81036
Telephone 719-438-5851 FSA (Ext 2), NRCS (Ext 3). FSA Fax number: fax2mail 844-332-7501
KIOWA COUNTY NRCS CONTACT INFORMATION -
Cheyenne Wells 719-767-5648 ext 3 -
Scott Smith, scott.smith@co.usda.gov -
KIOWA COUNTY FARM LOAN CONTACT INFO - CALL FOR AN APPOINTMENT
Telephone 719-336-3437 (ext2)
Mary Rhoades, mary.rhoades@co.usda.gov,
Nicole Lubbers, nicole.lubbers@co.usda.gov
SERVICE CENTER OFFICE HOURS:
Monday through Friday - 8:00 a.m. to 4:30 p.m. Friday, by appointment only.
FSA INFORMATION
For information on programs visit our website located at www.fsa.usda.govor like us on Facebook, or follow us on Twitter.